"Norin-soup Master Ground Pork Bone Soy Sauce" is based on bonito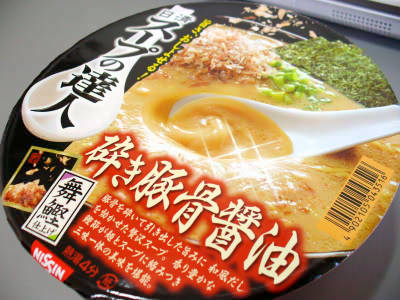 I took up earlier.Although it is a new product of the "Nissin Soup Masters" series that stuck to the deliciousness of the soup thoroughly, as I was lining up at the shop, I tried it at once.

It is a rare ramen that the bonito floats in the soup, but what kind of taste of the soup did it result as a result of thoroughly sticking to it?

Details are as follows.
Baked paste, and packs, liquid soup, powder soup are included.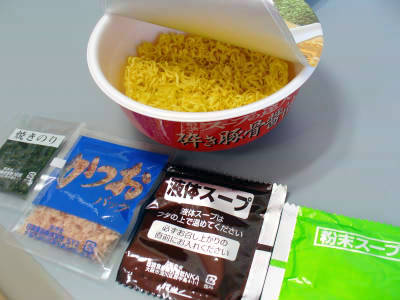 First, open only the powder soup.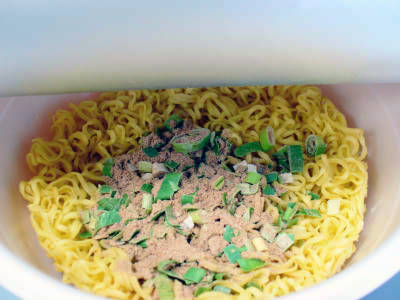 Pour boiling water and let's wait for 4 minutes.



After putting liquid soup, finish with baked pasta and bonito included.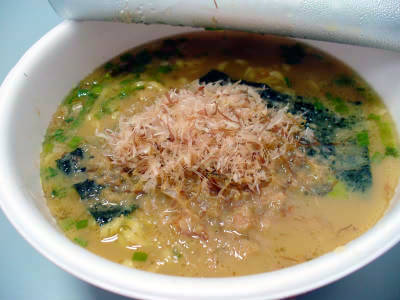 Although it is an impression of taste, the soup which the part of soy sauce flavor of Tonkotsu soy sauce flavored well with finished bonito is very delicious. There are added tonkotsu taste there. Nen is the same as ordinary soup master. It is a content that feels a little unsatisfactory, such as baked pasta and bonito only, but it has become an exquisite taste of baked pasta and bonito in soup.

The fragrance of the soup was a fragrant scent that I could not imagine as a very tangle because of Japanese bonito and Japanese bonito based on a hidden taste of fish. Even with a strong taste overall, I can get a lot of tummy with this one cup.