I love playing games and there is no one I do not know "Famitsu.com" I went to the editorial department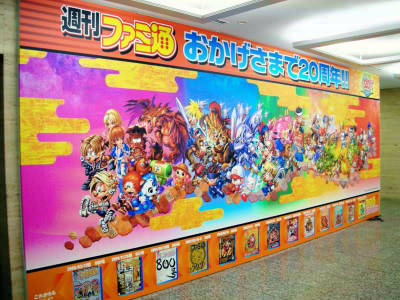 Wii's price is determinedWhen writing an article saying "Famitsu.comIt was updated from the scene ofLinked to blogThat is a reason, but that was the edge and I was able to interview the editorial department of 'Famitsu.com.'

This time I've also covered the questions that readers will normally think about "Famitsu.com" and about the company cafeteria "Hall of Fame".

Because what it says "Because it feels like Famitsu", it is very helpful for those who are fond of playing games and want to work in editorial departments and news sites of game magazines in the future I guess it is.

That's why I started.
◆ Arrive at Enterbrain

This is the enterbrain building with Famitsu.com. large…….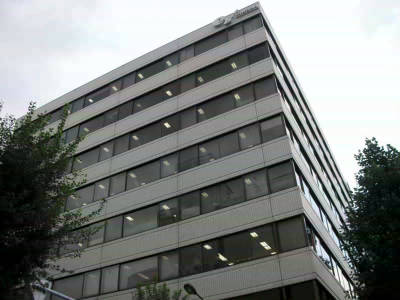 From going to the entrance to go to the reception.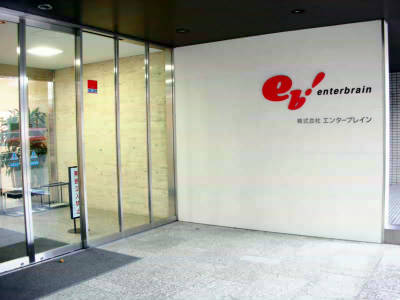 Um ... ...



There was a figure decorated, it is a feeling like anything.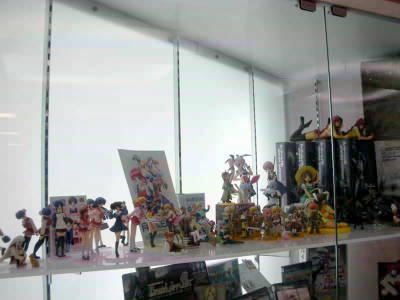 This is the reception desk. The bottom circle is a mechanism that shines when people ride.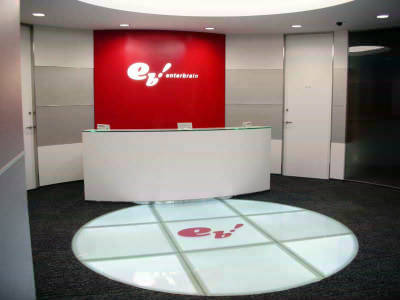 Tell me that you came in the receptionist for the time being ...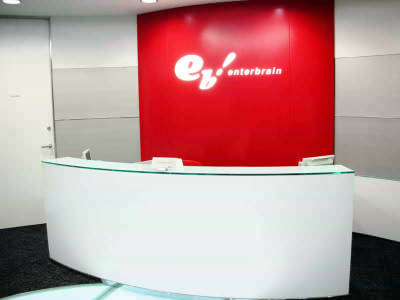 A lot of magazines issued by Enterbrain are full of receptionists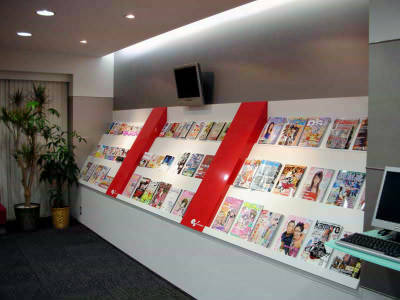 Premonition of some kind of disturbance! That's why I started coverage.

◆ What is the relationship between "Famitsu.com" and the magazine "Famitsu"?

Famitsu.com (hereinafter abbreviated as F):
I think there are about 10 paper media or naming media named Famitsu but it is a service that is completely independent as one of them anymore.

GIGAZINE (hereinafter abbreviated as G):
Does that mean that Famitsu.com is a pon on its own?

F:
I agree. An in-house reporters team called Information Management Room is also concurrently serving as the "Famitsu .com Editorial Department", and myself is positioned as a group organization in the department called Broadband Promotion Division.

G:
There are certainly written in the business card, are not there? When I got a business card, I was thinking "What kind of position is it positioned?" ... I thought.

F:
The Broadband Promotion Division is Famitsu.com that has reorganized the resources, articles and news of each editorial department as a position of organization.

G:
I see.

F:
Since it is a company that started from paper, we first thought about how to approach there with paper. So, at the very beginning, there was an editorial department as an independent organization.

G:
Although it is not now, is that that there was an editorial department at the beginning properly "Famitsu.com?"

F:
That's right. I think that there were probably about 10 full-time human beings at the time at the time, but there is a tendency to let it rationalize, it was integrated in it.
For example, when there was a presentation somewhere, there were a plurality of editorial departments going there initially, but manpower and resources are very wasteful, is not it? On the other hand, Mr. Orikata does not prepare too many seats, sometimes there. So, that is what it is now like in the form of a professional team for interviewing.

G:
Do you feel like a professional team of coverage goes with a pawn?

F:
I agree. By the information management room gathering, it also appears in Famitsu.com, and also in magazines, and magazines are not only "Weekly Famitsu" but also "Famitsu PS 2" or "Famitsu Xbox 360" So, when you see more and more. It is such a feeling.

About Famitsu.com's blog

G:
And another time, there is a blog this time. I saw it for the first time this time but I wonder how long it started.

F:
I guess it was around April when I first started.

G:
Is it since this year?

F:
Yeah, after about April Vana deal communication blog of "FFXI" began, Famitsu Connect! There is something like Online Game Life Support Magazine like Online Lifestyle magazine, but this has been done. Also, for adults for "adults Family", for adults it is not adult but rather a little expanded from the game, I watch movies, listen to music, watch cartoons and see people like ...... There is also.
Another reason is that there is a blog of young male voice actor five people who has someone such as Amazon or Boy'sBeat and growing every day on a daily basis.
This neighborhood is not like Famitsu. Com but it is like each editorial department or planning of a magazine, and it has become a feeling like feeling close to PR. There is an express blog that I used during the time of Wii or during the Tokyo Game Show, but this is a breaking blog that the information management room is updating and operating completely.

G:
Do you take this picture of the blog by cell phone?

F:
That's right. It is Moblog.

G:
I properly took a logo image and so I thought that I took it on my mobile phone and incorporated it in my computer and updated it. Is it such a way that images are allowed to enter arbitrarily in our own system?

F:
I am using a software called ImageMagick to put in a watermark.

G:
Indeed, it is amazing. To say that you are doing such things with Moblog ...... It is the royal road of blogs to do it from the site properly. There are quite a lot of such blogs overseas, but in Japan it is not too small, especially if the company is doing it.

F:
Is there really a news CMS? I wonder if I can update this around with a cell phone separately, but there are not many such CMSs in the current situation. Well it's just that the system side does not support it, I wonder if I try to do it.

G:
How do you update this from the scene of the presentation?

F:
It sent a shooting team together with the blog to the site, and there is no automatic conversion as to the animation as expected, so have you take a notebook PC and a digital camera and take it on the site and cut it from here I am encoding it after editing it with feeling ....

G:
I brought a laptop computer, was it amazing?

F:
Is not it somewhat out of the extremes that there is a need for information on the Internet whether it is early or deep? So I'm going to first make a quick one about the update part using blogs, so the price of PS3 and the release date of Wii are also so. Since I announced an update after updating to blog about 1 minute or so after the announcement.

G:
That's amazing, is that speed? I also felt that the server lasted without falling down. At the time of Wii's price announcement, there were about three other blog postings that are doing similar things, but in the end, except for Famitsu's blogs, it was too much.

F:
The most dangerous thing was the time of E3. Access exceeding the initial forecast gathered. So, in terms of the number of instantaneous accesses, E3 is the most amazing year.

G:
E3 comes more than Tokyo Game Show.

F:
Yeah, maybe overseas customers are coming, I think. It is not understood that I came to see the fact that I wrote an article at a local hotel and uploaded it to a Japanese server from overseas (lol)
Access is concentrated every year at the time of E3, but I am sorry also for those who come to see if it should go down, because I can not see it even though it was reported earlier than anything else, information Will it be a very lonely feeling as a side to take out? So, I had plenty of room to ask the company to increase the server beforehand. However, I misunderstood the setting of the process a bit, and in the Wii preview, it was about 15 minutes that it was hard to connect to the server although I increased the server, I was very impatient.

G:
Oh, suddenly it got heavier and there was a time saying "Are you? Are you OK?" After that suddenly it became light, so what happened.

F:
At that time I was hiding behind the scenes and making configuration changes (lol)

G:
How (LOL)
Also, I posted various newsletters, but have people come to see it with more momentum than when I posted on my blog.

F:
TGS was awesome after all as PS3 price reduction announcement was also there. Wii's presentation is on September 14th and TGS is from the 22nd. So, the article on price cut of PS 3 came out in the blog quite early. Wii was thin and high as an access tendency.

G:
What is thin and high?

F:
There were lots of instantaneous accesses, it was really pointy. In the case of PS 3, it was slightly thick and slightly low, but it was rather bold, so if you add it, it seems that PS 3 was more total in total. It was as big as impact.

◆ Editing department

It's like a magazine's main floor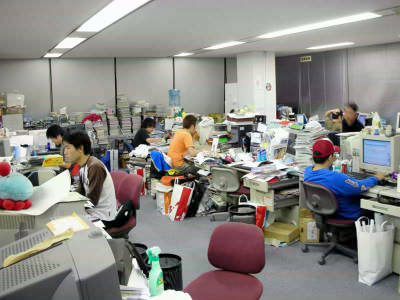 This place is a net main floor, I feel a little clearer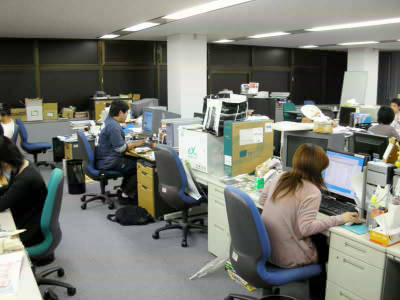 ◆ How many staffs are there in total

G:
How many people are there in the staff?

F:
If you become a web specialist it will be several people. On the contrary it seems like there are more than ten reporters. So it is quite a lot of people who are strictly involved in Famitsu.com. Although a professional human beings will be fewer.

G:
Do you mean that you are system related to a specialized person?

F:
I agree. System and design, and the mail magazine and operation around the web?

G:
In terms of design, do you have a designer as a regular employee in the company?

F:
No, I am doing it (lol)
Professional technicians cost me a lot. I am engaged in the Internet information site from around 1996. There is no longer anymore, but some people may remember it, but "Game BustersIt is a site called. Thanks to doing what I was doing, I knew the selfishness, so the start was early.

G:
Indeed, suddenly Famitsu.com was standing up.

F:
I guess it was March 2000 when PS 2 came out. The name is ASCII before the change to enterbrain yet. Famitsu.com was started in the era when the company name was ASCII, and since then there have been twists and turns, and it has reached now.

◆ Rough general schedule of the day

G:
What is the general working schedule of the day or what is it like?

F:
The troops of the net are, it is the main time zone from 10 am to 6 o'clock in the evening. Just because it is a release date of Pokemon I personally want to go buy. At that time, then I'm allowed to go out to Pokemon, or I'm giving out permission.
Among the exclusive members of Famitsu .com I also have a person who likes Pokemon, I'm happy to say "I bought it for you" around noon, I think that it is good as motivation goes up (Laugh)

G:
Its atmosphere is like Famitsu.

F:
There are many people who like games after all. Well, in the morning I went to work from 10 o'clock or 11 o'clock, and as a work of the internet system, I checked the access log as to whether it was a problem with the server, whether there was no problem on the server, then discussed and then 14 o'clock or 15 Lunch is about for about a moment, afterwards you continue designing, making documents and planning letters. In the evening it really is at 6 o'clock but it is common to start doing the mail magazine from about 8 o'clock and leave around 11 o'clock.

◆ How do you like lunch?

This is a company cafeteria, its name is "Hall of Fame"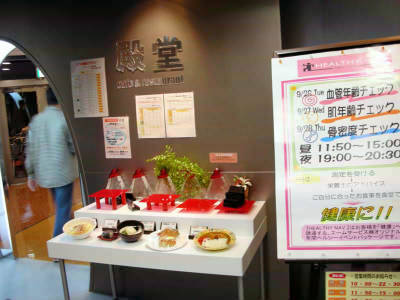 This is a menu. Daily change menu is usually on the red place on the top.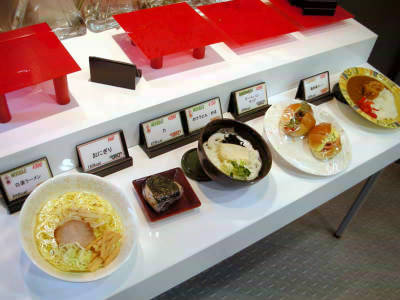 Inside is like this, shiny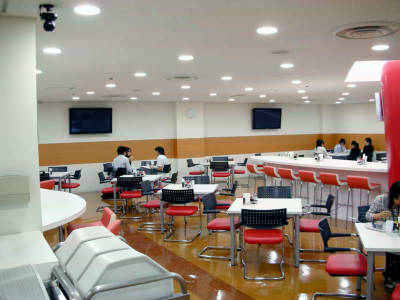 It is a small convenience store level, is tremendous fulfillment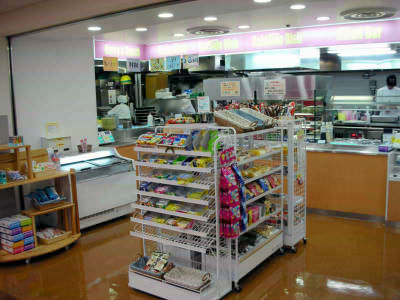 G:
Regarding lunch, I heard that there is an in-house dining room on enterbrain, but I guess they are all done in the company cafeteria.

F:
There are a lot of people like that. There are things that there are not many shops nearby (lol)
I get a little as it goes up to Ichigaya, but I have to walk about 15 minutes. HoweverCurry store that delicious delicious to KojimachiThere is. I do not want to go there even for 15 minutes occasionally.

G:
It is the first time that I have an in-house dining room for my coverage, but was this from around Sangenjaya before I moved here?

Enterbrain public relations (hereinafter abbreviated as F2):
We decided to have an office here this time, and we entered from the design of the canteen and the service who is doing catering for outsourcing and made it in full swing so that we can eat delicious as much warm as possible.

F:
I will not lose to Google. It's a joke though (laugh)

G:
Did you have a desire from within the company to firmly build the company cafeteria?

F2:
It is close to welfare programs.

F:
I can eat about 300 yen per meal. I am very much saved (haha)

F2:
There are some price settings as well, though. Special menu is like 500 yen, or 600 yen feeling a little high, but you can eat good items such as "Ununori" or "Steak".

F:
When there is no money it is about 150 yen soba. Various hierarchies will appear (lol)

G:
I mean that it is a cafeteria that everything from pin to kiri is aligned.

F:
It is almost always four types or five types.

F2:
Well it is a staple. Curry and udon surely exist.

G:
It looks like a university cafeteria.

F:
Yes, that is exactly the case.
◆ Bragging the editorial department

G:
Compared to other news sites, can we not lose here or are there boasting office environment?

F:
I am doing my best as a news site by name Famitsu. I am doing my best. Another event space "WinPa" is on the second floor.

This is the event space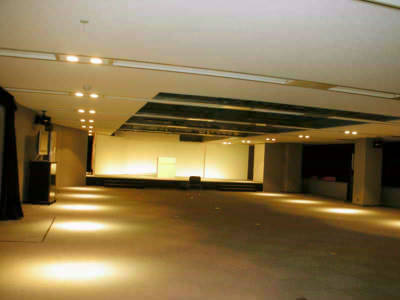 A space in front of you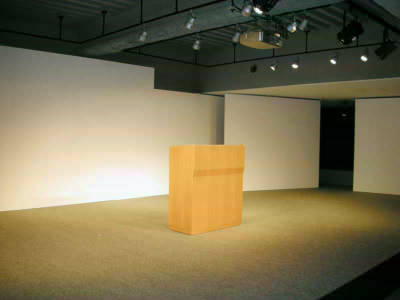 Perfectly equipped lighting, various staging is possible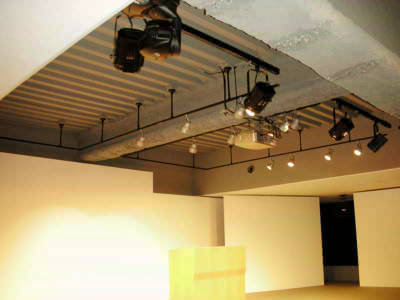 Like this. It seems that smoke also comes out.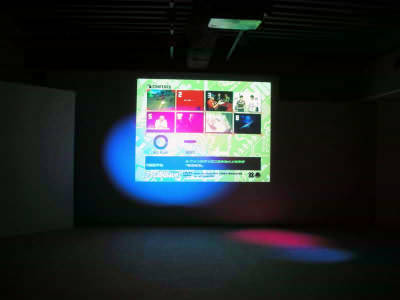 G:
Do you do events here?

F:
Yes, calling readers of magazines, doing game competitions, calling game creator and doing a talk event, I do a lot.

G:
Did not it be an extension of the meeting room but made it for the event?

F:
There was a light and there was a stage. This is also the strong intention of the president, such as to realize the way of new media that go beyond paper and the net.

G:
It is amazing. I went to the level one step higher (haha)

F:
I wish it would be nice to have fun with everyone. The enterprise name of enterbrain is to become an entertainment blain, but I hope everyone is excited to be able to create exciting things. Is not that fun being transmitted from the point of the human fingers writing articles?

G:
Are there other places yet?

F:
Juice is 80 yen, there is wireless LAN. There are other massage rooms.

G:
There are many massage rooms in the editorial department.

F:
Oh, it's not like a massage chair. A teacher comes.

G:
Well, do you have a room?

F:
Yes, there are rooms.

G:
Is that also because it was made to move here newly?

F2:
That was from before. It's about two or three years ago, though. With the feeling that there is a teacher with the date and time decided.

G:
Was there something like that wanted?

F2:
That is also welfare program, after all. Human resources reviewing variously. I have a seminar on skill up in the company and have the teacher teach me from the outside. Human resources plan such a thing.

G:
It became a story to build a massage room with that extension. Do you have any other interesting things?

F:
Well, yes, I heard that the Yasukuni Shrine is near so I decided to do an Ohana event in March or a barbecue in the summer. There is a kind of garden around the building. When I do a barbecue there is smoke coming to the next apartment, but everyone else burned meat or shaved ice after apologizing for Sumitomesen. The next day the elevator hall was burning chicken (lol)

G:
It is amazing. I wonder why events and so on.

F2:
I watched the World Cup at the cafeteria as well. Alcohol and knobs are free.

F:
There is beer in the dining room. Please drink it within the scope of work.

G:
It is a wonderful decision (laugh)

◆ Episodes and legendary episodes that struggled with article creation and coverage

G:
Do you have interesting stories in article creation?

F:
Today, since a journalist was suddenly unable to get in the interview, it was not Famitsun. Com, I was doing reporters in my previous job so I thought about the story a little while, as a good story I wonder if the tape is not turning when I'm interviewing (bitter smile)
In addition to this, the game maker sells a lie release to April Fools. It was about 1996 and that year. At that time we were Ubu, so I did not know whether it was true or false. There is a story saying that a certain company advances a certain popular character to 18 forbidden, and we wrote it hard to seriously, even that (laugh)
Also, a picture of unknown sender arrives.

G:
What? Unknown sender?

F:
I got a new e-mail with a picture that new game hard will come out. I guess this is SEGA, and I wrote Dreamcast, but what? ,When. So, it is the day that Sega will announce something the other day, it is just this, why do you have pictures? I was at a loss as to whether to put or not to put on that time, but since the local interview was going on, I called and asked "What color was the color on the button?" "Blue" "Matching right" or " What's the button? "" Midori "" It is true! This is real! "

G:
I see, I did it by all means to see if it was genuine or not.

F:
Well, if you put it as it is without confirmation, is not it Mazui? Oh, I remembered the story after I became Famitsu. This is a story I heard from reporters, but at the airport, it was said that the AC adapter was mistaken for a bomb on the way back from E3 and this is what. It was big with a 200 V converter and so it was carefully examined and seemed to be in Elly.

· The readers who are supposed to read such a reader

G:
Do you have readers who are supposed to do other than game lovers?

F:
I am having an image that people who are coming to see now are game makers and those who like games like medium sized. So, I think that I'd like to do something a bit more interesting to those who are more literate and those who are knowledgeable and willing to be happy. There are many people who searches, but there is a page rank at Google, the most disadvantage of that is that novice people who do not have blogs, html do not understand, link How can I paste? Personally think that it is not possible to participate in the evaluation of page rank. Even though I think that it is very useful as a beginner, I do not have a homepage and I do not blog, so I can not paste a link. But those who are not satisfied with ordinary information are coming up with articles that those people like linked to an article that discusses Web 2.0 and so on. But I think that content for beginners does not come up very easily.
So Famitsu.com is going to put content around that. It's an article for those who are planning to start an online game now. So there are places to be glad if you can see such a thing. Since the information of the software system of the game is almost covered, it would be nice if you could see it catalogically.

· Tips for browsing the site

G:
It is the design of the site itself, what kind of leads are you thinking about?

F:
I am lined up in chronological order. There are places where you are manipulating some with the number of accesses, but there are things that you can use RSS in strict chronological order. RSS is almost 100%, complete chronological order.

G:
Did you change your design a while ago?

F:
Actually this is the 6th design (at the time of coverage). I re-launched it on the 16th October design with the seventh design. Right now, ranking only rank sales. But I wonder if I should start a new ranking of expectation next time. Delayedly, we will promote CGM, Consumer Generated Media. Also I'm the movie that Ichi is putting the most power on now.

G:
Does the video on the right shoul keeps flowing all the time?

F:
Continue to flow here on the top page. In FireFox and Opera, only the commercial flows and stops. Just a bit, this size is really nice. There are also attachments in the design, but recently I thought that it could be ants, for example, that this can stay on the way like a television and only posted on news by just reading this one.
Now Famitsu.com is not static and it is almost static without pages. It is also static about blogs and so on. I guess I should do something that can be customized just a bit on the top page, but it will cost a load and I do not know what to do.

G:
It seems that replacing the renewal considerably is like replacing at a certain timing, is not it?

F:
After all it gets tired of appearance, so it is desirable to say that it is preferable that it is preferable that it does not change like Impress in consideration of usability, but the reader has better PC performance and screen size, Famitsu you have. I do not know yet as to whether the hardness of the game dealing with com is increasing or not, but Wii or PS 3 has a browser attached. Perhaps I feel like I can see it in such size, I feel that it is changing according to the times.

G:
Indeed, I have to consider that kind of thing.

F:
When Dreamcast was sweeping the market, I was on a page that could be seen in Dreamcast. There is a page that was adjusted not to be a dedicated page but to be seen even in Dreamcast. As a platform other than a PC, I'm doing a service called Famitsu DX for a mobile phone for a fee. Regarding information, it will be free flowing, so I think that it is about to change.

◆ I am running on such a system

G:
I see. How does the system operate?

F:
As for the server, it is not made to make it out dynamically in the first place though. It has just been reinforced and it is safe for a while. To the contrary, it is appreciated that increasing access is increasing access. It is best to move the CMS behind the scenes so that the reporter can update the article no matter where in the world it is.

G:
Does this update of Famitsu.com be reflected when the reporter updates on CMS?

F:
That's right. As a flow, the superior checks the contents, but if you are a high level reporter you check it yourself and upload it as it is.

G:
I see. That will make it faster for articles to come out. When did you start doing it?

F:
The first thing was handmade by HTML, but there are obviously reporters who do not have the skills to that. So put a CMS in around 2001 or 2002.

G:
Is not it quite early?

F:
Well, that neighborhood may have gone ahead. If you create an input window with ActiveX like a table tag and draw a ruled line like a word, it becomes a table. We are upgrading more and more to the CMS that matched the times.

· Future policies (We plan to develop such feelings, etc.)

G:
If so, how do you think about the future policy?

F:
Since only the appearance has changed since now, next time I want to change the part other than the appearance. I talked a little while ago, but I would like to increase the number of user participation more.

G:
What exactly is it? Do you even think of a wiki?

F:
It seems to be fun, is not it? I'd like to do, but first of all it is tough, yet it is a secret, but I am thinking about something interesting. It's funny game version of the service where the listening music is recorded like sound logs or Mixi music"Review log"It started on November 6 in the name of). If you record with yourself what you've bought today and become friends with someone who has the same taste, if you get stuck in the middle with RPG dare you tell me if you dare say it is still a capture book or not (lol)

G:
It's a great strategy (lol)

F:
As one love game, if it is interesting (laugh)
It is fun to search the net and get the answer, but there are places that are not friendly to beginners. I think that the merits of books are gathering only the necessary things cleanly.

G:
I heard that it is a PC game, but when asked why he does not play games while watching a computer's capture site, "Because I'm playing on the full screen, how do I see it".

F:
Yes, there is such a meaning, I am doing the capture information service seen on mobile phones. Let's be seen while playing the game.

G:
Do not you think about blogging of game strategy system or collaboration with Wiki?

F:
Summary of Wiki I think that there are various motivations for people who make sites, but I would like to help everyone, I want to make money with an affiliate, or simply a memorandum for myself. I would be happy if Famitsu.com will become a role or function that allows us to organize that area systematically.

G:
I think that there is a milestone in a game-related event or an event, but will the page view go up and down repeatedly each time?

F:
Well, basically E3 and TGS are coming to the top of the sky, but the summer vacation will rise a bit. In addition, July, October, November, December, February and so on have big titles so it will be a little exciting. What will happen, as E3 shrinks next year. However, I am always devoting my full support to presentations and other activities, so please support me (laugh)

G:
Also, are there editorial staff, enterbrain employees, many people doing net work?

F:
Well, how about? Mixi We often see people doing it. Everyone has an orange screen when going backward (laugh)

G:
As enterbrain, what kind of deployment are you planning on the Internet in the future?

F2:
Of course, it means that the net can go on and on and on, but mobile phones as well.

F:
Tokyo IT newspaperIs not there any? I first thought about how to bother making the paper already read the information on the net, but it is all right after you get the actual thing. It is collective and easy to read. You can do it well.

G:
Indeed, in terms of putting together, it is said that magazines are still active. Also, why is it that you can put game images etc. on a game news site for nothing, is this not decided?

F:
To the game maker, we check the range of posting on the net.

G:
Actually, I'm coming for pompons about what I use for press releases.

F:
I will be an old story, but it was around 1996, still mobile phones were expensive, the grassroots network and the Nifty forums were at their best, the Internet game information site has never been recognized. At that time I asked for a photo that I can use on the net and asked me "What is a net?" Or "I was asked" What is a mail? I had a hard time. I do not understand even if you say "Please send jpeg as an email", so I received a positive or paper burning by mailing, I scanned it all up, processed it up and did it Sane

G:
Indeed, there are sometimes such cases as GIGAZINE if it is a food system. Thank you for today.


next time,"I went to the editorial department of the information magazine "Dakapo" which understands modern time in three hours"…stay tuned.