Delivery service "DD flight" that can accept baggage only by e-mail address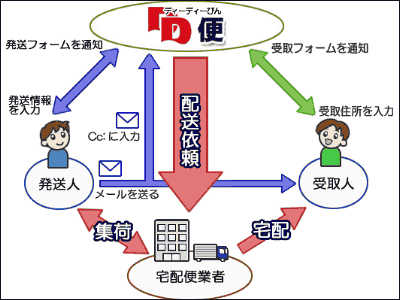 If it knows even the mail address of the opponent it is said that it is a home delivery service for a nationwide flat fee that can deliver baggage without the trouble of filling out slips. This allows the recipient to receive the package without communicating personal information to the other party, and the sender will also have no more time to fill in the voucher.

It may be good when using net auction etc.

Details are as follows.Dream distance news release e-mail fixed amount DD

According to this release, if you pre-register in "DD flight", when sending the baggage to inform the other party to send the package by e-mail, the reception address of "DD flight" at the broadcast address (Cc :) Just by filling in an address, it seems that "DD flight" will check the place, date and time to receive whether this package will be received by the recipient.

As a result, the recipient no longer needs to inform the other party personal information such as an address, and the sending side also saves the labor of writing the shipping slip.

By the way the shipping fee is uniform throughout the country, 60 sizes of 670 yen, 80 sizes of 790 yen, 100 sizes of 980 yen. Payment by credit card or online bank is possible.Yamato Transport fare listCompared to, compared with seems to cost at least 740 yen in the same area, it certainly may be reasonable.