"Woman Excite Search β" which delivers recipes daily by RSS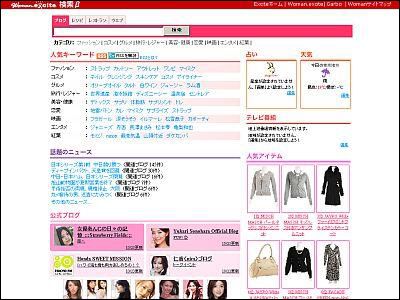 Recipe retrieval is possible and "Today's recipe" every dayRSSIt seems to be delivered with. In fact it is uri that you can quickly search for women's interests and understand the trends, you can easily find the information you want from women's high interest categories or you can find the topic of your current topic on the blog, It is too convenient.

Details are as follows.Woman excite search β

Main functions are three. Firstly, you can search blogs, recipes, restaurants, and webs with the search function. In addition to searches by placing ordinary keywords, there are 9 types of "fashion" "cosmetics" "gourmet" "travel / leisure" "beauty and health" "love" "movies" "entertainment" "seasons (autumn leaves)" It seems that searches can be narrowed down to categories as well.

The second is a popular keyword function. It seems to update topic keywords in blogs every 15 minutes for each of the above 9 categories.

The third is a topic news function. It also seems to be a feature that shows the degree of interest in the news by automatically extracting the articles related to the news by updating every 15 minutes as well as the articles on which news are written.

In addition, it seems that information such as fortune telling and weather that you can customize if you enter your own constellation or area, information on TV program information this week, fashion item ranking is also displayed.

I tried recipe search immediately. First, enter the dish you want to make.




Choose from genre "All", "Japanese food", "Western food", "Chinese food", "Ethnic", "Type" as "All" "Rice food" "Main dish" "Side dish" "Soup" "Noodle · Pasta" "Nabe "" Desert "" Beverage "from the search.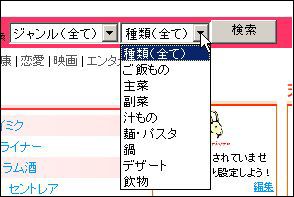 The search results will come out.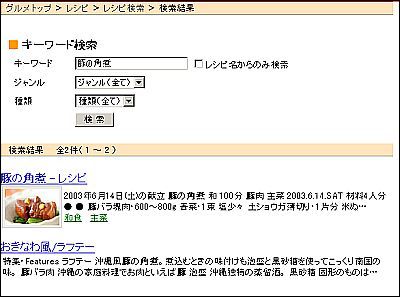 You may want to visit if you are not sure what to eat.