NVIDIA Unveils Windows Vista Demo Movie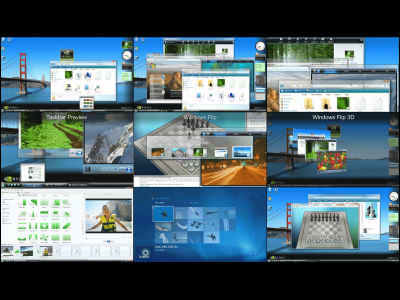 It's clear and briefly summarized among the various demo movies I have seen so far, so you can easily understand "What's different on the next Windows Vista? Since the format is WMV, it can usually be played on Windows Media Player. Since there are high resolution version (190 MB) and low resolution version (64 MB), it can be played according to spec.

Download from below.
NVIDIA ESSENTIAL VISTA campaign

Downloads

It is controversial because it is useless if the graphic board is not strong enough to think that it will use the function of the next Windows "Windows Vista" in full. What about a laptop computer whose graphics function must be poor, or what business computer do you have a graphic board?

So, when "NVIDIA", one of the leading graphic board makers standing in such a whirlpool, uses a full NVIDIA nForce motherboard and GeForce GPU to fully demonstrate the demo movie of how much Windows Vista features can be drawn out The feature of this time is that it opened to both feature sites of the site.

You can understand by actually playing the movie and browsing it, but from the functional point of view you will receive the impression that "It might be a bit convenient ...".

But what kind of computer specs is the recording environment of this movie ... What is it like to move so much crisp ... ....
in Video, Posted by darkhorse_log