Sumo mocho plum flavored bonito flavor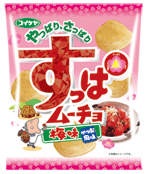 The next soup mocho is plum flavor and taste. Price released on September 25, 2006 (Monday) release.

Details are as follows.
Plus the flavor of bonito plus the acidity of plum flavor "snow mochyo plum flavor bonito flavor" New release

It is said to be potato chips of Japanese style taste with sour and boiled rich matches, leaving the plum sour taste flavor of bonito.


"SUUPAMUCHO" series appeared in 1993 as "sour and delicious" potato chips. At the time of sale, we gathered the topic as a flavor to defeat the common sense of potato chips. We will continue to revitalize the acidic potato chip market.

Sour Potato Chips Market ...?