Conversation of GIGAZINE editorial staff who went to Comike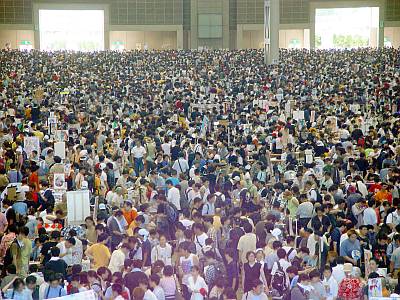 The picture above is the landscape in the venue of the comic market 62 by Mr. Kobak. It is spectacular.

The world's largest event of doujinshi sale sold at Tokyo Big Sight "Comic Market"For short," comic ".

The last 'Comic Market 69' was held in December 2005 for 2 days, 23,000 participating circles, 350 thousand visitors. As it was August 2005, one year ago, it seems that there were 480 thousand people in 3 days last time. Since it is this size event, I was wondering whether or not I will go to the interview, but in the end, even at general TV stations, I've been doing well recently and I decided that I do not have to go this time separately . I may go next time.

A few days later, since the conversation between the editorial staff since Comiket was over was too outstanding, I will post it.

Below, the conversation at that time.
A:"Hey, there is OFF or launch after Comiket, is not it?"

B:"There is no there"

A:"Eh, I met friends in Kanto who I met on the net for the first time"

B:"There is no there"

A:"Would you like to have friends in Tokyo? "

B:"There is no there"

A:"After shopping, as people are decreasing, talking with acquaintances so that they do not get in the way near the booth ..."

B:"I will be back soon."

About people who go to Comike In general I think that a stereotypical image is being constructed, but it is not so much that you can understand that there are many people ... Maybe.

The "Comic Market 70" this time,Approximately 130,000 visitors on the first dayIt seems that it was. How long is this total for 3 days this time?

Since it seems that it would be good to submit an application for the interview on the day in the following procedure, so let's try this procedure next time.

How to apply for the interview on the day

·Related Links
Welcome to the comic market official website

YouTube - Search results for "Comique"
in Column, Posted by darkhorse_log