Google launched a free wireless LAN connection service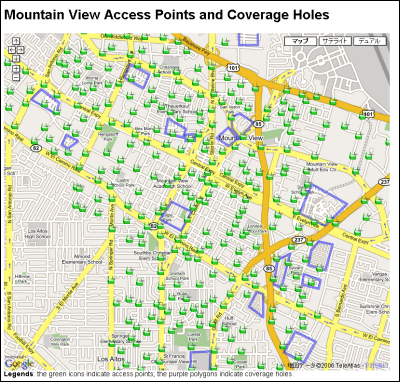 The above map is the scope. Will not you do it in Japan, too?

Details are as follows.
Mountain View Access Points and Coverage Holes
http://wifi.google.com/city/mv/apmap.html

The location is Mountain View in California. It has already been rumored on overseas blogs for several days.

GigaOM: >> GoogleFi, Almost Live For Some
http://gigaom.com/2006/07/13/google-mountain-view/

About one year ago I also reported overseas headquarters Engadget, so I think that the preparation period was quite long.

GoogleNet - massive Google WiFi in the works? - Engadget

For FAQ, please click here.

Google WiFi Mountain View
http://wifi.google.com/support
http://wifi.google.com/faq.html

It seems that the speed is roughly 1 Mbps. Looking ahead, what kind of deployment is going to be aimed for is the focus.