Flavorful snacks of sea ingredients "Taste of the sea: Shrimp prawns"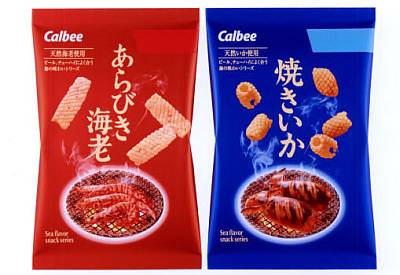 Calbee releases snacks "Ocean taste shima shrimp" and "Ocean taste burning shrimp" that are perfect for alcoholic snacks on a convenience store basis from July 24th sequentially by region.

Details are as followsNews release "Taste of the ocean sea roast shrimp" "Taste of the sea"
http://www.calbee.co.jp/newsrelease/060719b.php


"Taste of the sea shrimp shrimp" can be enjoyed delicately frying the dough kneaded with the whole natural shrimp, and enjoying the crispy texture and the rich flavor of the shrimp. Compared with Kappa Eboshi, it has a full-fledged taste with 3 times the shrimp, easy to pinch, and easy to put in the mouth.

3 times shrimp of Kappa Boson ... Is it even more fragrant?


"Taste of the sea" is baked carefully of the dough that has been kneaded with natural ingredients, and the spicyness of mirin soy sauce and chili peppers are added to the savory fragrance, and it is a delicious taste. A bite size simulating grilling and rolled shape.
The shrimp of the package and the baked picture make the image of the rich flavor of the sea material imaginable, appetizing.

Is it a sweet feeling? Indeed, this may be a snob.