92% of people feel sleepy during classes and work "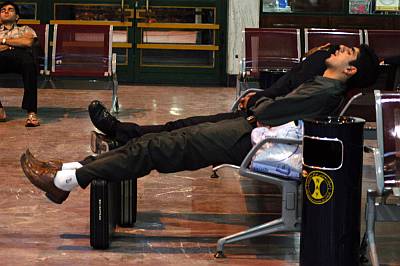 The sleep deprivation committee operated by Tokiwa Pharmaceutical Co., Ltd. of the Noevir group (Minmin Shinkai) conducted "survey on sleepiness lifestyle" on 400 surveyed men and women in their 10s to 30s through the Internet survey As a result, it seems that 92% of people found that they might feel drowsy during class or during work.

Besides that, 46% of people are thinking that "their lifestyle is going to bed late early," and many things were shown in class during work or when they felt drowsiness during work.

Details are below.
Drowsiness Breaking Committee, "Lifestyle survey on sleepiness" conducted(PDF file)
http://www.tokiwayakuhin.co.jp/news/20060706.pdf

Their lifestyles are classified as follows.

1st place "Late sleep early rising" 46.0%
2nd place "late bed lapsing" 31.5%
3rd place "Early to bed rising early" 18.0%
4th "Early bed late afternoon" 4.5%

Measures taken when feeling drowsy during class or work are like this.

1st place "Drink coffee / tea" 66.7%
2nd place "chewing gum" 37.4%
3rd place "Washing face" 24.1%
4th place "drink sleepiness prevention drink" 8.9%

Other methods include "take nap and nap", "move eyebrows" "move the body" "eat food" "to endure alone" "to smoke" "to smoke cigarette" "to persevere with gut feelings" "to strike face" There seem to be such.

Personally, if you are sitting on a chair, wake up if you float the sole of the foot from the floor.
in Note, Posted by darkhorse_log