A sea house featuring the theme "Fashionable witch Love and berry" appeared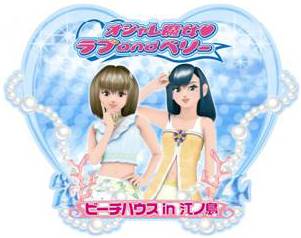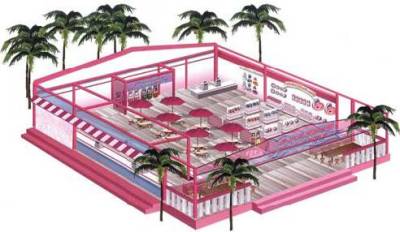 We will open the ocean house "Oshare Majo Love and Berry Beach House in Enoshima" on the theme of "Oshare Majo Love and Berry" for business kids cards on July 10, 2006 (Monday).

In addition to installing game machines in the sea house, selling swimsuits and clothes of the same design as those of apparel products and cards of the same store, summer items of "Love and Berry" characters (floating rings, beach balls, leisure seats, etc.) Sales of original food, etc. will be planned.

The details of the place and the period etc. are as follows.
"Ocean house" embodying "fashionable witch love and berry"
"Oshare Majo Love and Berry Beach House in Enoshima" Opened on July 10!(PDF file)

Originally "Love and Berry" is a card game for professional kids that appeared in October, 2004. Using "fashionable Magic card" to dress up, enjoy dressing up and dance with rival characters, compete for which is prominent.

Although I do not know what it is, I gained tremendous support from girls who are beginning to be interested in fashion, and as of the end of May 2006, the number of game machines installed is 7,900 nationwide, card shipments are 16700 I recorded 10,000 pieces. Also, since March 2006, we opened an official shop that sells design items (apparel, stationery, miscellaneous goods etc.) that conformed to the world view of the game at department stores, shopping centers etc. nationwide, etc I am rolling.

It seems that there are also life-sized figures of "Love" and "Berry" at the storefront of this fixed sea house .... Even Sega is like this for the first time. How much profit do you make?

The location is within 1-2931 Katase coast, Katagi coast, Kanagawa prefecture, within 1 hour from July 10 (Monday), 2006, the access time is from the Eeonoe Enoshima station of Jiang, the Ebina Nojima station on the Odakyu Katase station, the Shonan Monorail at Shonan Enoshima station. Until 31st (Thursday). Business hours are 9: 00-17: 00. The area is about 100 tsubo. In addition, "Oshare Majo Love and Berry" will have 4 units, "King of Beetle King Musking", 1 "King of the Ancient Kingdom" and 1 "King of Beetles Musiking ~ Adventure of Popo ~". As know-how, apply existing amusement arcades, what is called game center related?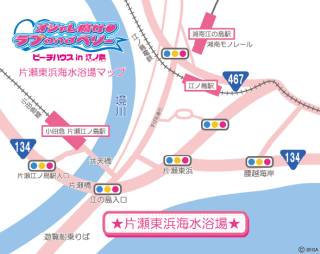 By the way, examples of products sold are as follows.


"Love and Berry Beach House" Original T-shirt 2,500 yen
"Love and Berry Beach House" Original Aloha Shirt 3,500 - 4,500 yen
"Love and Berry Beach House" Original One Piece 4,000 yen
"Love and Berry Beach House" Original Chibi Sleeve Camisole 2,500 yen
"Love and Berry Beach House" Original cap 2,000 yen
"Love and Berry Beach House" Original Straw Hat 1,500 yen
Juicy Paradise (matching layout) 11,400 yen
Refreshing Paisage (matching collection) 13,500 yen
Roti on blue (matching matching collection) 13,500 yen
Sun x 2 island (matching layout) 12,400 yen
"Love and Berry Beach House" Original leisure seat 1,300 yen
"Love and Berry Beach House" Original mobile strap 800 yen
"Love and Berry Beach House" Original neck strap 1,000 yen
"Love and Berry Beach House" original fan cube 300 yen
"Love and Berry Beach House" Original hand towel drip-proof case 800 yen
"Love and Berry Beach House" Original Silicon Band 100 yen
"Love and Berry Beach House" Original Travel Pouch Set 1,000 yen
"Love and Berry Beach House" Original Bath Towel ¥ 1,500
"Love and Berry Beach House" Original Omori Towel 2,000 yen
Floating wheel (Heart type, Round type) 1,500 yen each
Beach ball 800 yen
Square beach back 1,000 yen
Various other food and drink menu planned for sale