SimCity's Will Wright 35-minute demonstration movie of the new game "Spore"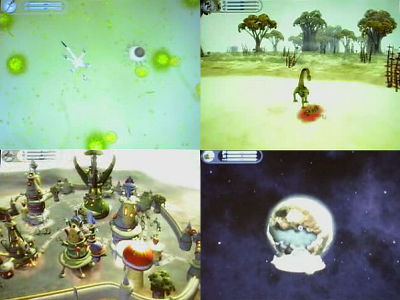 Until now, it is treated as completely confidential and only a few screenshots are released, "Spore". This movie of this time clearly leaked, it seems to be one of demo which was done at GDC of 2005.

Details are as follows.
First, step by step, watch the opening demo flash movie of the official website.

SPORE
http://spore.ea.com/

Next I will read this article.

Game Developers Conference 2005 Field Report
Mr. Will Wright talks about future vision "The Future of Content"
Procedural world demonstrated with Mr. Wright's Life Work "SPORE"

As you read the article above, playing the following movie will make it clear what kind of game you are playing.

Spore Game-play Video; 35 Minute Long Demonstration

It seems to be interesting ... ... Microorganisms go through the process of evolution, move to the primitive underwater world, and primitive land and world, constitute settlements, run group lives, build cities, become social Taking collective action, another city and war occurred, at the end manipulating the UFO kidnapsing another creatures of another planet and sending it to another planet, I do not know what it is Hmm.

I wonder if you can see that there is something movement in E3 this year.