"Words of flowers (KOTOHANA)" expressing feelings with light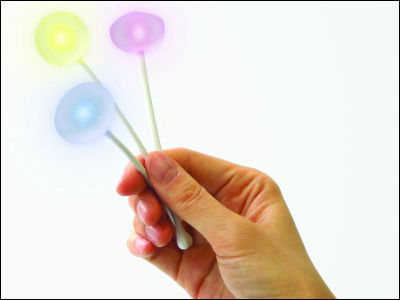 Waka is said to be a feeling communicator that can communicate the feelings of people and people with light. It will be exhibited at CeBIT (International Information and Communication Technology Trade Fair), the world's largest IT trade fair to be held in Hannover, Germany, from 9th to 15th March.

Details are as follows.
Joint development of "Kotohana (Kotohana)" expressing feelings with light (March 3, 2006): Press Release | NEC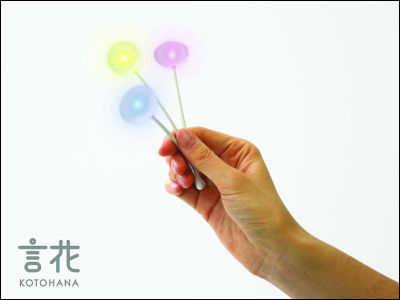 NEC Design Co., Ltd. (NEC Design, Representative: Hisao Oya, Headquarters: Shinagawa-ku, Tokyo) and Japan SGI Co., Ltd. (hereinafter referred to as NEC Corporation) The following three companies, SGI Japan, Representative: Izumi Tatsuo, Headquarters: Shibuya-ku, Tokyo) jointly developed a feeling and communicator "Kotohana (Kotohana)" to communicate the feelings of people and people with light It was.
NEC will exhibit this model at CeBIT (International Information and Communication Technology Trade Fair), the world's largest IT trade fair held in Hannover, Germany from March 9th to 15th.

I do not really understand the meaning of communicating the feelings of people and people with light ......


In "Kotohana (Kotohana)", a flower type terminal incorporating an LED (light emitting diode) expresses the feeling of the speaker in light color.
For example, if a person in the surroundings responds with various colors according to the emotion of the speaker, such as "yellow" when feeling "fun", "red" if feeling "excitement", and people We will make people's dialogue more enjoyable.
Terminals are assumed to be connected by wireless LAN etc. It is possible to know the feelings of the speaker even where they are far away.

In the case of uncomfortable feelings it is not possible to light up ... .... the formation of a very awkward space (abbreviation)

"Kotohana (Kotohana)" can be decorated in the living space as the interior of the room and direct a space to share feelings.

Moreover, by incorporating this function in mobile terminals etc., we have the possibility to create new communication that casually knows the feeling and feeling of the opponent.

Is the back part of the mobile phone shining?
If you are talking outside, the rough content of the conversation goes to the end by color? It is!

The detailed mechanism seems like this.


Two sets of flower-shaped terminals are set, and "ST" analyzes the sound input through the microphone incorporated in the terminal.
"ST" detects emotions such as "joy", "sorrow", "normal", "excitement" from the rhythm of the utterance, feeds back the result to the LED attached to the flower part, "joy → yellow , "Sadness → Blue", "Normal → Green", "Excitement → Red" as a change in color of soft light.
When the emotion of the speaker changes from normal to excitement, if the process is represented by a gradation of color or when the degree of excitement changes from weak to strong, it expresses the change with the strength of light.

It seems like it seems to be very embarrassed to use gokong or something in line with you. It seems to be a concept model, but how much is it as an actual product version comes out? Is it USB connection as well?