Decided to broadcast 'Yokai Human Bem' from April as it is the picture of the old work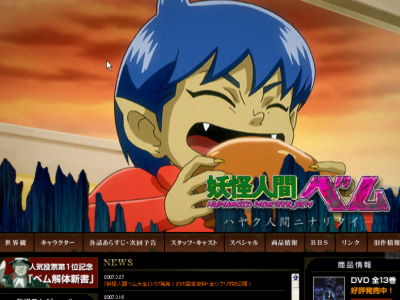 I took a quick look at the movie, but it looks interesting ......

Details are as below.

Slashdot Japan | "Yokai Human Bem" appears in Animax with a completely new work



X - AC says, "Perhaps if you are in your thirties, somewhere in a corner of greater or lesser mind
There is no mistake that it is a caught animation work (let's assert it dare),
That "Yokai Human Bem" will be released as a completely new animation from this April 1
It seems to appear in Animax.
Although the cast will be renewed as expected, the character's design almost followed the old work,
At least it does not feel a sense of incompatibility.
The stage seems to be an original story that moved time to the present (precisely one year ahead)
To a human who knows at least a strange anime world,
It seems to be finished in a work that is pretty interesting.
Looking at the pilot version of the official website that has already started up,
There are also clauses that take into account the export to overseas, and expectations for future development will be taken. "

So this is the official website.

Youkai Human Beim

Pilot version movies are here

Worldview & Story


Nobody knows when it was born.
In a dark, no-sound world, one cell was divided and three creatures were born.
They are, of course, not humans. Also, it is not an animal.
But, in that ugly body, the "heart of justice" is hidden.
What is that creature .... It is a youkai man.

After a long run, Bem, Bella, Vero 's Yokai people came to a huge port city on the eastern edge of the East.
There are various hidden histories and cultures in this town, but it is also selected as a government designated development city, and nature destruction is proceeding.
In addition, due to the character of the international trade city, it has a chaotic appearance.

Yokai Humans feel that the whole city is enveloped by a huge weakness,
I decide to stay in this place.
And in order to protect humans, we stand up to the devil 's youkai who attacks with full power.

Sometimes I see ugly human hearts than youkai.
From human beings who should have helped, it is sometimes torn apart as an ugly youkai and can be oppressed.
But they also fight against demonic monsters today.
If you do justice, believe that the day will come to be human -

Is not it ordinary old!
in Anime, Posted by darkhorse_log