I have eaten a Stavax cafe menu such as 'Purine a la mode frappuccino' which looks and tastes as well as pudding a la mode stava


Starbucks suddenly begins to use ' Sta Avax ' along with a retro logo, and a menu that makes you feel nostalgic, such as pure coffee drinks and food, is appearing one after another. Above all, it is especially necessary to check the new frappuccino ' Purine Ala Mode Frappuccino ' based on the image of Purine Ala Mode, which is a piece that looks like a picture of a cherry with a cute appearance like a pudding. There were also unusual cafe menus such as hot sandwiches and strawberry jelly cake, so they were actually tasted at Starbucks.

[New product information] Pudding A La Mode Frappuccino® | Starbucks Coffee Japan
https://www.starbucks.co.jp/cafe/pudding/?nid=tbn_01_pc

Looking back on good old days and adding the essence of a new era, such as 'Purine Ala Mode Frappuccino®', something nostalgic, but new products will appear from Wednesday, May 15! | Starbucks Coffee Japan
https://www.starbucks.co.jp/press_release/pr2019-3041.php

So I came to Starbucks.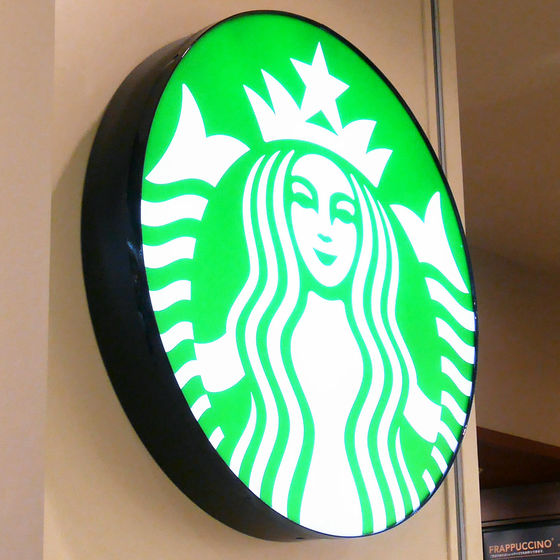 At the storefront, the new frappuccino 'Purine A la mode frappuccino' was widely advertised. In addition to this, the 'Stavax Cafe' menu has been promoted throughout the store, and in addition to the ones picked up on the official site, there are also cards with 'Stavax Cafe' menu tags attached.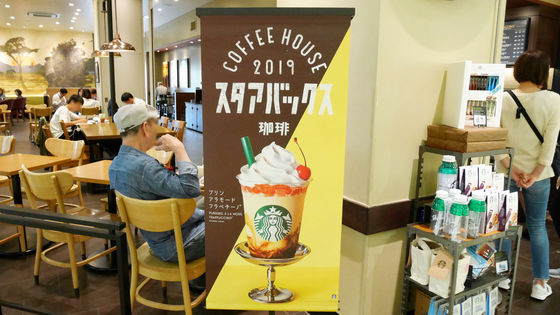 So, first of all, I order 'Purine a la mode frappuccino'.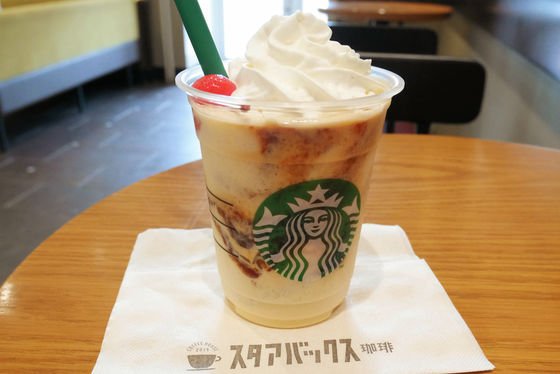 The pudding colored frappuccino is topped with plenty of whipped cream and a syrupy red cherry essential for pudding a la mode.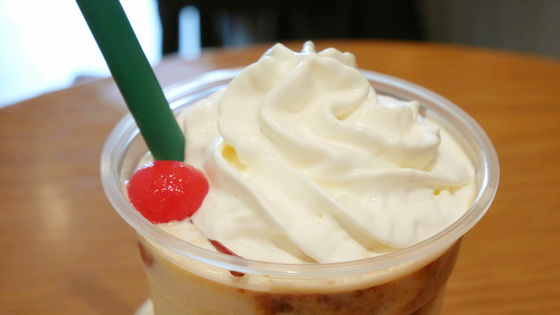 Frappuccino is the color 'the pudding', and caramel sauce is mixed in the shape of marble. The red object floating above is a mixed fruit jelly using three types of fruit: mango, apple and strawberry.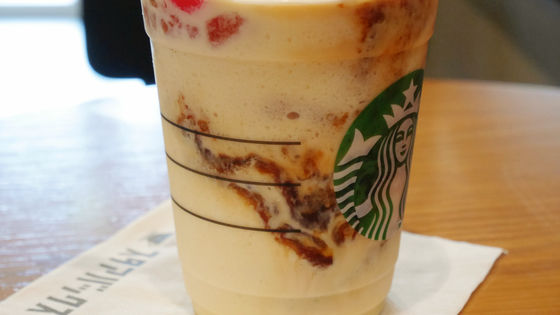 When you drink it, Frappuccino is a taste that does not disappoint the look that faithfully reproduces the taste of the traditional pudding. The flavor of the creamy pudding flavor frappuccino and caramel sauce are mixed in an exquisite balance, and it is just a pudding to drink. It is hard to see from the outside, but mixed fruit jelly is also included, and the acidity of mango, apple, and strawberry was a good accent of the sweetness of one-sided frappuccino. In addition, mixed fruit jelly seems to be finished quite thick so as not to lose the taste of frappuccino.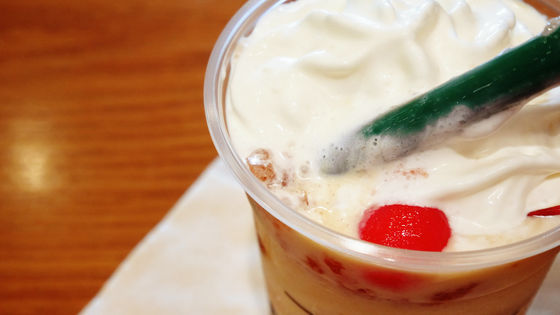 Next, as a Stara Bax chopsticks menu, "water draining lime (cold breeze lime)" (450 yen tax excluded), "hot sandwich ham egg" (tax excluded 380 yen), "mochi jelly cake" (440 yen tax excluded) order.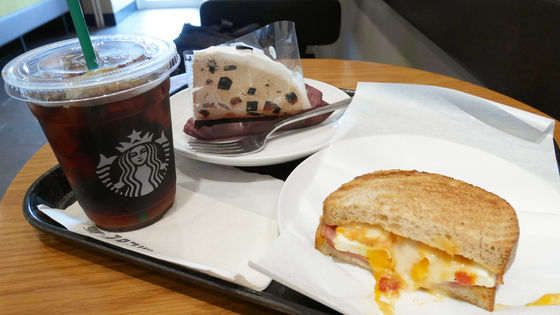 Paper Napkin comes with the original Stavax cape.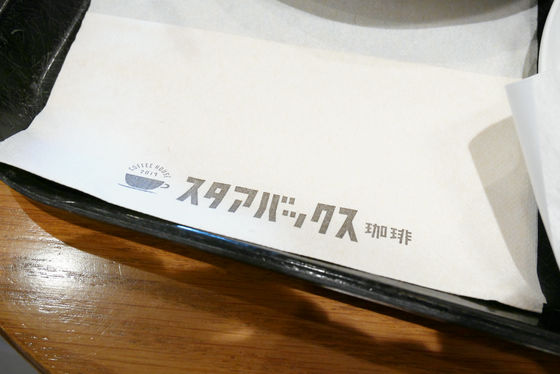 As a Stara Bax coffee menu, there are 'Draining coffee' and 'Winner coffee' with a coffee shop in mind, but they are customized 'Cold Brew coffee' and 'Drip coffee customized to whipped cream' respectively. As ', it is sold year-round. When I was wondering which one I would like to order for a coffee shop-style drink, 'Same as the regular menu ...', the seasonal menu 'Cold Brew Lime' was lined up on the Sta Avax coffee menu as 'Watering out lime'. So I ordered this.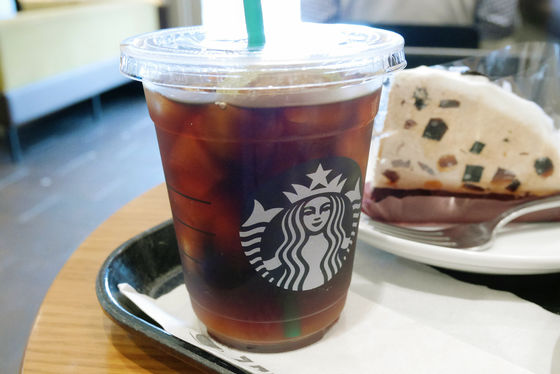 Mix the lime-flavored syrup with cold bleu coffee (cold brew coffee) and garnish with dried fruit lime.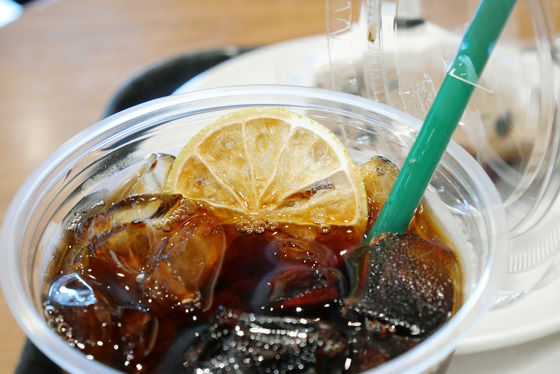 It is difficult to understand, but because lime-flavored syrup is sunk in the bottom of the coffee, mix well and drink.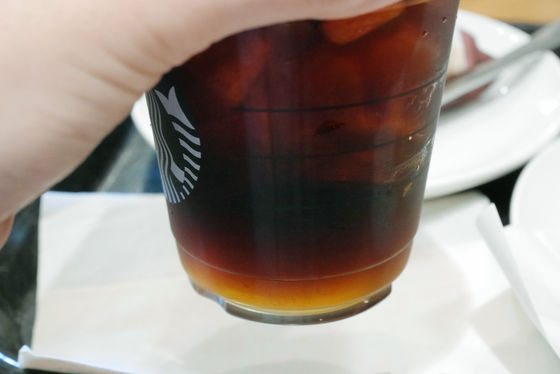 When you drink it, the first thing that spreads in your mouth is the smell of lime, which matches well with the rich smell of coffee and the slightly bitter and refreshing smell of lime, making it a very clean and easy-to-drink taste. The moment I came into the mouth is very refreshing with the rich aroma of cold brew coffee and the aroma of lime, but the smell through the nose is smoky and unique, so the preferences are likely to be split. Bitterness is weak as it is slightly sweetened. You can drink it too sweetly, so it is perfect for the coming season when it gets hot.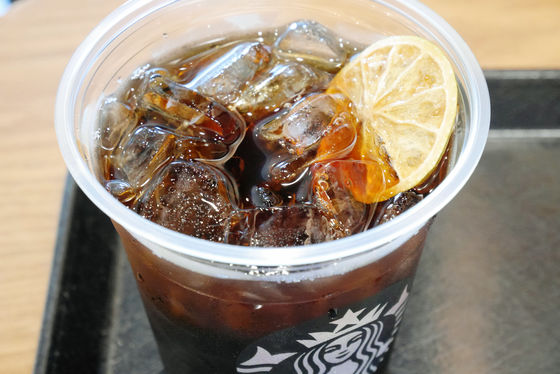 Then try eating hot sandwich ham eggs. Hot sandwich ham eggs can also be warmed by the toaster when ordering.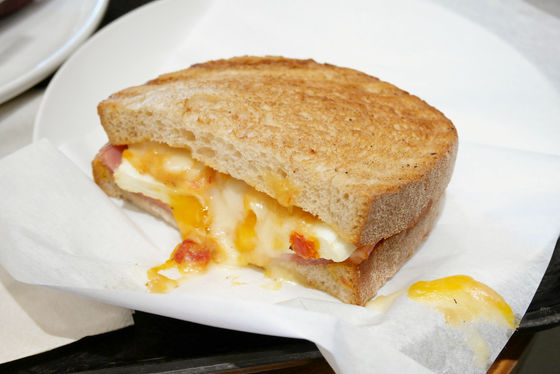 The cross section looks like this. The cheese is melted, but if you look closely, you can see that the yolk of the soft-boiled egg is melted along with the cheese.



This is about the size compared to the iPhone X. The size is small.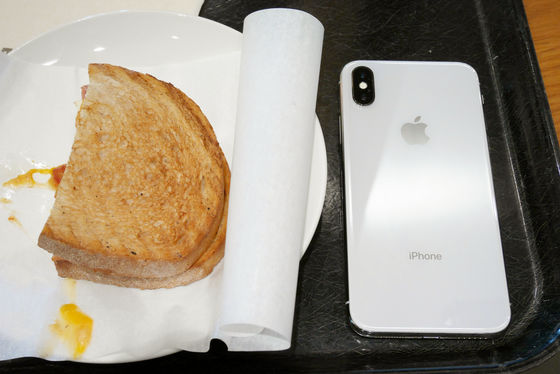 If you use the included paper, you can eat without getting your hands dirty.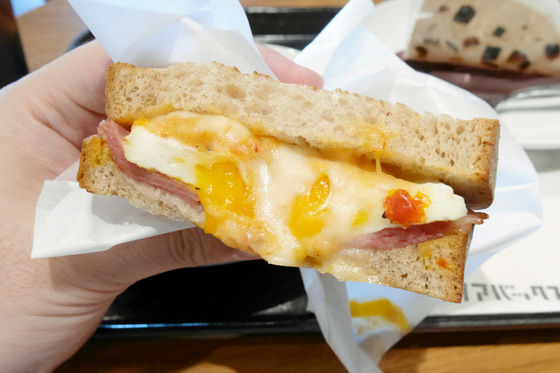 When you actually eat it, the taste of the shoulder ham that is sanded inside is exquisite, and it has a far greater presence than tomato cream sauce and parmesan cheese that are sanded together. The crispy baked bread, the mellow ripe egg, and the trinity of the preeminent ham with its trinity taste are exquisite and not very large, but it is a product that feels well-satisfied.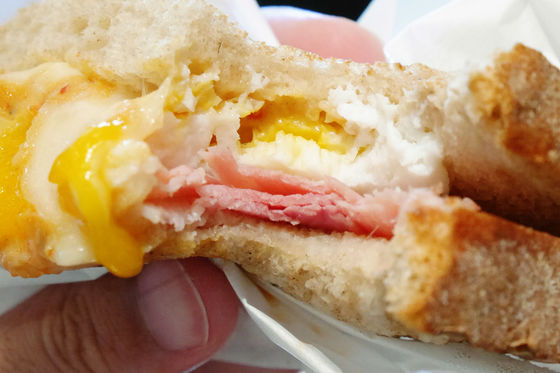 Finally, I try to eat the mysterious strawberry jelly cake with coffee jelly in the cake.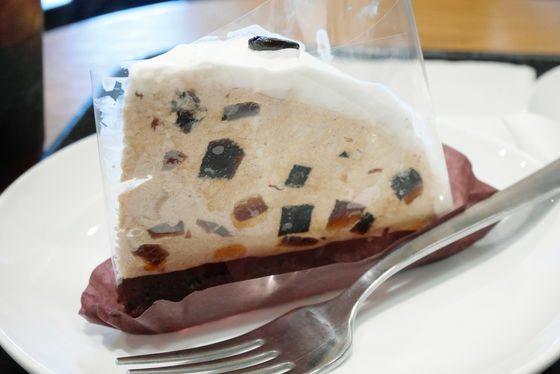 Topped with a crisp espresso bean on top.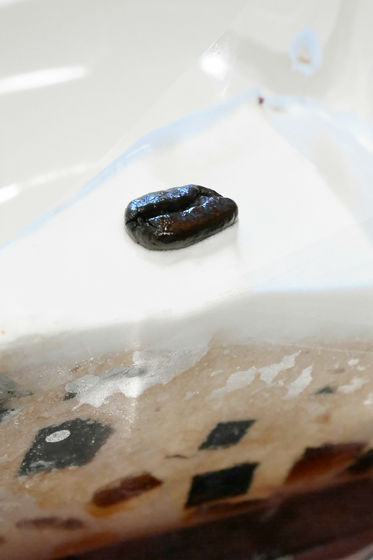 It looks like this from the back. The outermost is coated with whipped cream.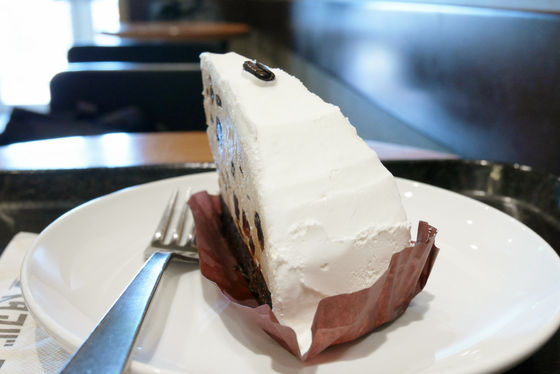 'Coffee jelly even though it is cake?' It is a name that brain is likely to be confused, but looking at the cross section, the reason is understood by one shot, and it is a cake with coffee jelly in coffee mousse reason. The bottom is covered with chocolate brownie using Starbucks original chocolate.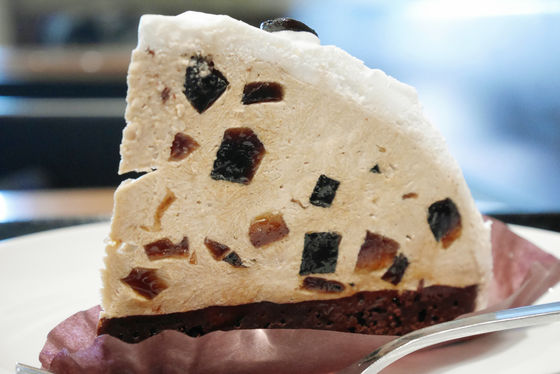 When you try it, the fluffy coffee mousse and the crispy coffee jelly texture contrasts to a delightful cake. Coffee mousse and coffee jelly can enjoy a slight coffee aroma, but there is no serious bitterness, so it is perfect for people who are not good at coffee but like coffee-based desserts.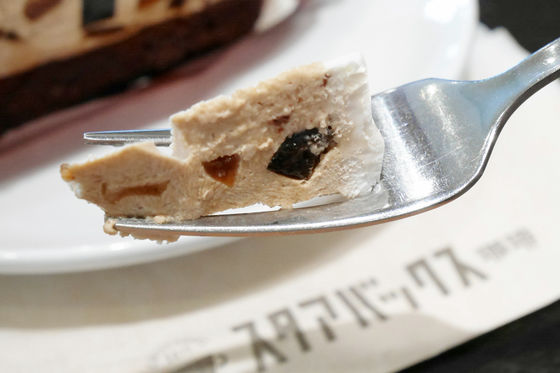 The chocolate brownie on the bottom is moist and full of texture, and adds a firm eating response to the light taste of fluffy fluffy coffee mousse and coffee jelly. However, because chocolate brownies have a strong texture, eating them all together will make the texture of coffee jelly thin.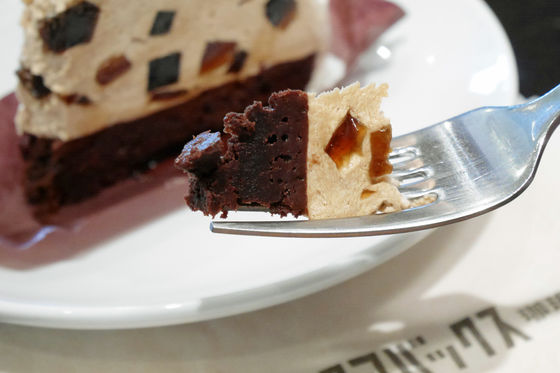 In addition, pudding ala mode frappuccino and the staabax cafe menu are on sale at Starbucks of the whole country for a limited period from May 15, 2019 to June 18. As it is finished as soon as neither is exhausted, please eat early if you are anxious.