It was ridiculous if you brought in an animal that does not enter the bag with a subway in New York and banned it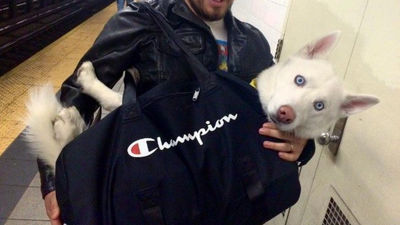 In October 2016, we operate railroads and buses mainly in New YorkMTAHowever, "We prohibit dogs from getting on the subway unless they fit in the container" was established. However, in New York it seems that there are many pet dogs saying "I want to get on dogs and subways!" In the subway the appearance of a dog who became quiet like a cat borrowed in a bag in a bag It seems to be seen many times.

NYC subway riders will get their dogs on board no matter what anyone says
http://mashable.com/2017/06/07/nyc-subway-dogs-in-bags/

About the dogs seen on the subway, Twitter users banned dogs that the New York subway does not enter the bag, but the New Yorkers did not disappoint their expectations, tweeted that, about 17 million times were retweeted It was. Like this tweet, the pictures of "dogs in bags" that I saw on the train have been uploaded to SNS such as Twitter and Instagram in large quantities.

the New York City Subway banned dogs unless they fit in a bag and the people of New York did not disappoint.Pic.twitter.com/vluNcZHBmW

- C (@ meanboysclub)June 6, 2017

A dog with only his head pulled out of his bag

Here's my dog-in-bag on subway photoPic.twitter.com/yXPfPPk6iu

- Hanksy (@ Hanksy NYC)June 7, 2017

Also a dog that fits snugly into the backpack

Not just a dog-in-a-bag. It's a pibble-in-a-bag. Not an easy feat.#nycsubwayPic.twitter.com/zKbu1t7pfg

- Martha Dedrick (@ NY Cmixology)June 7, 2017

How can long hair dog in the tote bag is turned on, a glance is seen also as a person's head, if it is no mistake to be frightened if I saw on the train.

That's a dog. In a bag. On the subway.Pic.twitter.com/4hfqXuMCml

- Steven Christoforou (@ scchristoforou)November 3, 2016

The IKEA bag seems to be usable as a dog's carry bag.

Love the nyc subway. That's a dog in an ikea bagPic.twitter.com/s3RXkDNbxT

- erinVICTON (@luvseungwoo)March 28, 2017

It was a dog that stuck to the bag ... ... or something like that.

Stop what you're doing right now.

This dog chilling in a purse on the subway needs your attention.Pic.twitter.com/jCtI4mTfgO

- Adena Andrews (@ adena_andrews)April 4, 2017

Even a fairly large size dog seems to fit in the bag, it has become a popular passenger of the subway.

"Any dog ​​brought onto the subway must fit into a bag"Pic.twitter.com/40AcGou5K9

- Maggie Morgan (@ Maggie Morgan 8)March 10, 2017

A dog that fits in a bag with a mess. Is it about the size of a medium size dog?


There is also an example of use that pierces a bag and he does not know whether he is already in his bag or wearing clothes.

My favorite picture EVER of someone bringing a dog "in a bag" on the subwayPic.twitter.com/4 PTUNofv 68

- Pamela (@ PamelasRageLove)June 7, 2017

Furthermore, it seems there were New Yorkers carrying dogs in bags before October 2016.

Dog on the subway#humansofnewyork#nycsubway#newfriendshttps://t.co/Gf4TmzFeUvPic.twitter.com/EiPvz 58 rwu

- Art History Abroad (@ AHAcourses)January 14, 2016

Also, some New Yorkers seem to have not only dogs, but also people who take other creatures. The following picture shows the state of the person who is riding a train with a living crab in hand.

Live crab on a NYC subway 1-29-2017 # 500pxrtg#streetphotography#nycsubwayPic.twitter.com/a2rCo4tyBJ

- Richard Pagan (@ rricklu90)January 30, 2017