OVA "Corpse Party" event report with wretch that makes me feel like "I do not want to die like this"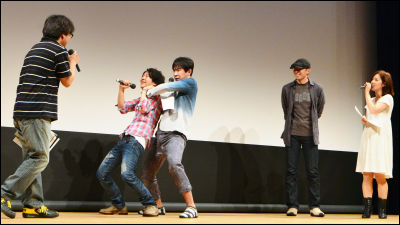 OVA made with the horror adventure game "Corpse party" as the originalCorpse Party Tortured Souls - Curse of Violent Souls -"Will be released on July 24th, this volume edited for theatrical release prior to release, Tomokazu Sugita of the original author Shinkoin Shin and cast, original Yumi who was in charge of the theme song, A screening event took place by Mr. Akira Iwanaga, a talk by Nomura Producer of MAGES.

Corpse Party Tortured Souls - Curse of Violent Souls -
http://corpse.jp/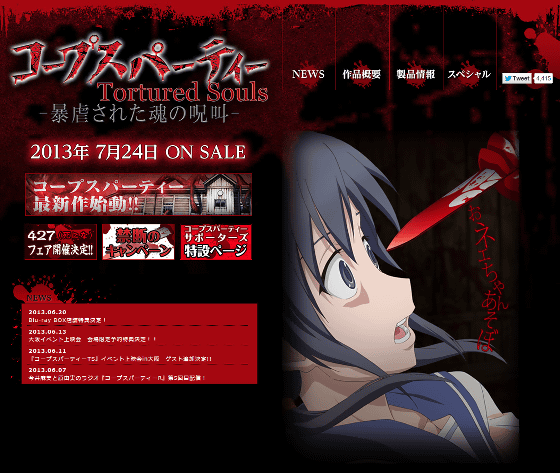 The event I visited this time is in Osaka, the venue is in Osaka Business ParkMatsushita IMP Hallwas. The key visual is used for the poster to inform the event, but at this point it is an eerie atmosphere.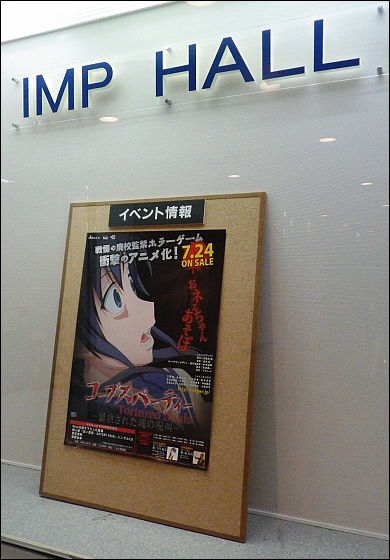 The guest was geezy inside the hall. The event starts with the screening of OVA.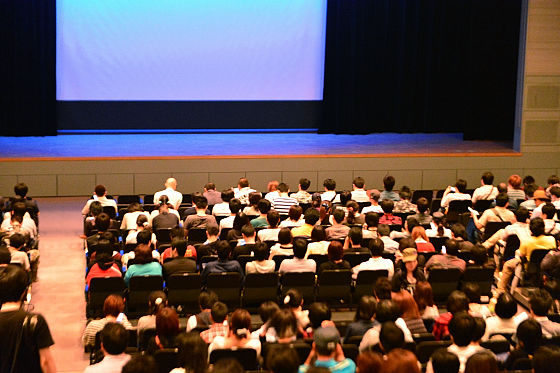 Tetsushi Mochida, Naomi Nakajima, Ayami Shinozaki 9 people to do the good morning "classic Mr. Sachiko" for classmate Suzumoto cocoon which will transfer to school after finishing tidying up the cultural festival. Everyone got a paper doll and garnished, suddenly an earthquake occurred. Naomi wakes up in a school classroom with her best friend and the world. Two people quarreled with bad things, they became apart ... ... the synopsis of the work. A desperate scourge will be unfolded in the abandoned school "Tenjin elementary school", and nine people will somehow aim to escape from this school.

The talk event that took place after the screening started with Mr. Sugita's comment "It was kind of disturbing ... ...." From the left was Mr. Nomura Producer from the left, original authors Shin Shika, Mr. Tomokazu Sugita, Yukinari Shikisu, Director Akira Iwanaga, responsible for the ending theme. Hara is a game software for PSP "Corpse Party - THE ANTHOLOGY - Sachiko 's Romance Yogi ♥ Hysteric Birthday 2 UIn charge of Susumu Suwara role.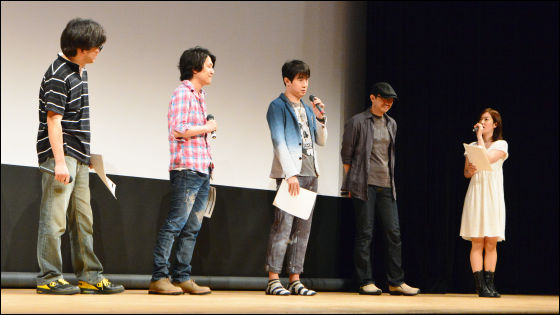 "Corpse party" is a horror adventure game which was originally made with game production software PRG Maker Dante 98 for PC 98, then Windows, mobile application version, PSP version etc are released. Regarding animation, we released "September 2011 release"Corpse Party Book of Shadows"It seems that there is a story saying" I would like to do "around the end of the production, and the director told the contents" I heard that OVA can do whatever you like, I told you to do whatever I really like (lol) " It was.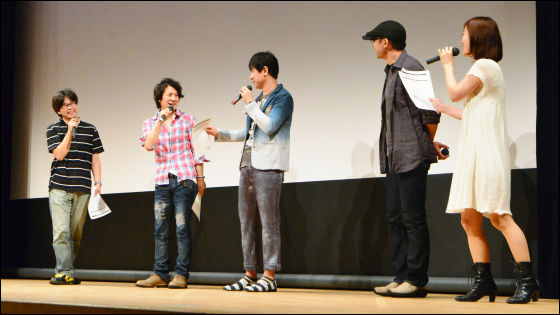 Mr. Sugita said that Yuichi Nishimura of Yoshiki Kishinuma taught me about this game and he was playing from the beginning, the impression at the time was "This bad game isSweet HomeEver since, Well! "something like. After that, I learned that there was a voice cast recruitment in the mobile application version, and I told the manager that "I wanted to go out" even though amateurs were the only applicants who can apply for it, "Mr. Sugida, it is a pro Episode that it was refreshed as.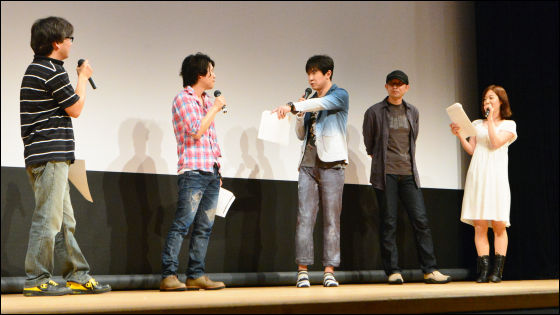 However, as the thought has grown too much, Ms. Sugita wrote a long sentence mail and sent it, polite e - mail came back from Mrs. Answer and he said that he was making friends after that. Prior to this Osaka event, it seems that two people used to ride ahead and a variety of talks were held in the sauna.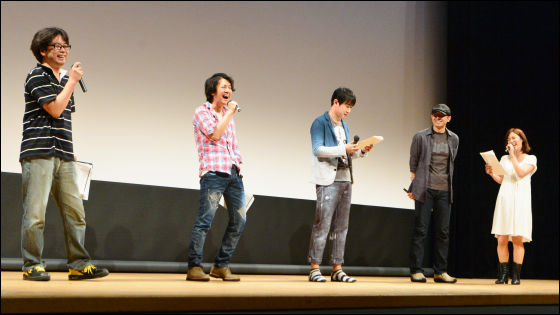 Game and animation are different in development, many deceased characters were at the same time, the last scene was quite shocking. It was Mr. Katsuichi Sato who was in charge of screenplay and thought about this, what was suggested at the time of the main reading. According to Nomura Producer, at this time everyone paralyzed, "It is still much more" to be asked for shocks, Mr. Sugita is said to be in a form to express as "Shock Rin Toki" .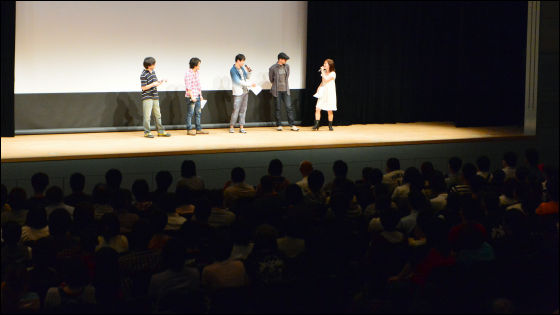 After this, Mr. Hara sang the ending theme "fireworks" and "spiral moment". As I was told at the time of recording, what was going to happen to the ending, I said that I sang to do my best not to lose, but when Mr. Hara was shown in Tokyo, the ending was too shocking Because he did not notice that the song is flowing.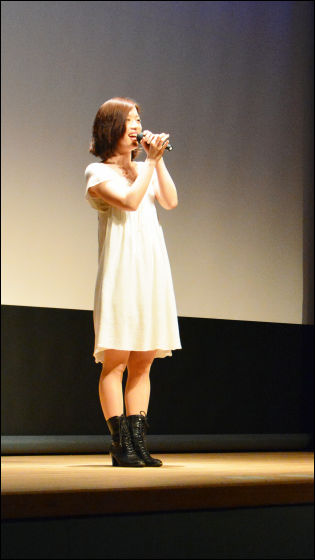 All gifts were handed to the visitors, but gifts of clear file entered by other lotteries were held.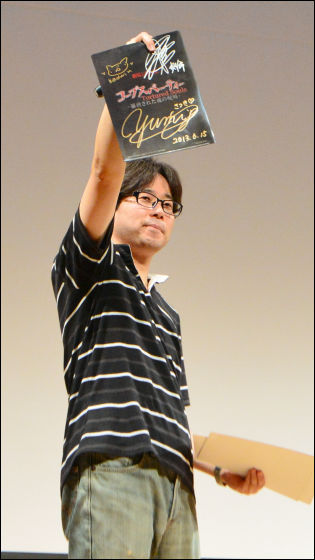 Mr. Sugita is electing a winner ... ....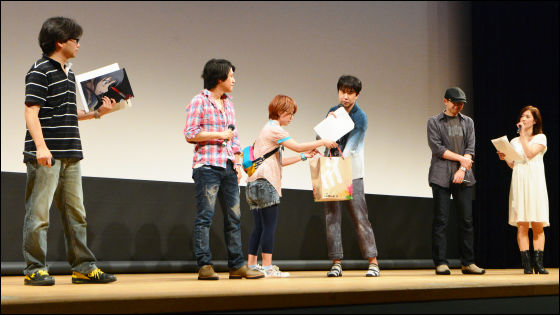 In addition, there was a campaign in which OVA 's advance reservation can be made at the venue, and a schedule entered by two people and an autograph - filled jacket won by the lottery among those who reserved.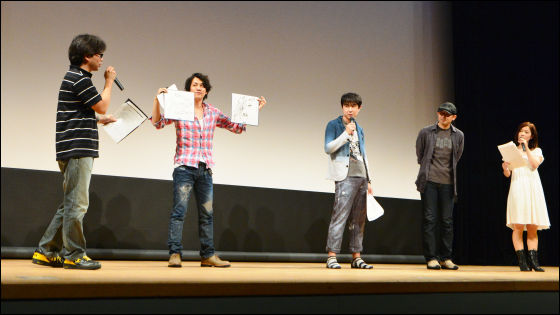 At the end of the event a message was sent to visitors.

Shishinin:
Thank you for gathering today. Please let me hit it and let me make a sequel! Everyone, thank you for your continued cooperation in the future.

Iwanaga:
Since I had not thought that "Corpse party" was involved for over a year and I did not expect it to be projected on such a big screen, at the same time I was glad and it seemed like "I can not see it there" Although there are changers (lol), it is nice to be from the side you made. Because it is OVA, it was done as you like, but "Corpse Party" is a work that has been loved for a long time, so I'm going to make it not to destroy it. I hope it will be a work that meets expectations for a moment.

original:
"Corpse party", I am delighted to sing the ending of works that have history and loved by many people. I am looking forward to that day as I think that I can play various acts as Satsuki as a voice actor. We look forward to your continued cooperation party in the future. Thank you for your time today.

Sugita:
I always think about playing "Corpse Party" and being actually involved, but it is my lesson to say that I will take care of my life because I am seeing these extreme conditions It is. I do not want to die like this (laugh). It will be more positive in the real world that it is not good whether you feel like a person like this. Looking at these kinds of things, I think that I want you to make lessons in myself and to balance the mind. Nonetheless, since it is awful thing to say the most terrible thing, instead of the words of closing, I will narrow down the headquarters.

And Mr. Sugita really struck Mr. Ansan. I am in trouble because relationships are too good.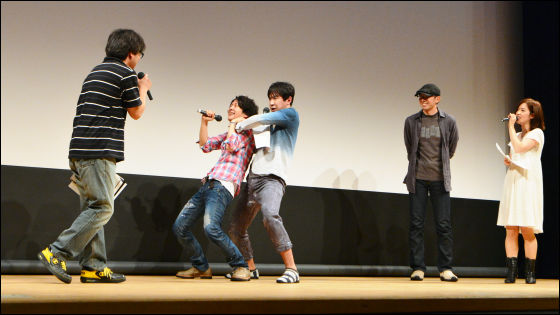 Mr. Sugita's "Let's take care of life, I only have one," leaving a message that the curtain has come down, the event is over. As Mr. Sugita's comment also suggests, there is a hint of thinking that "I do not want to die like this" really, it is also a work with a terrible scene to receive the R 15 + designation, but what I am going through the horror is It is also a work that makes you feel that you might be laughing. Because the cruel expression is lifted in the third trailer published on YouTube, the level that people who are not tolerant may not be able to see it may be safe.

Corpse Party Tortured Souls - Curse of Violent Soul - Third Trailer - YouTube


If you are interested, please take a look.