Image material search site "Tadapiku" which is free for commercial use and does not require credit display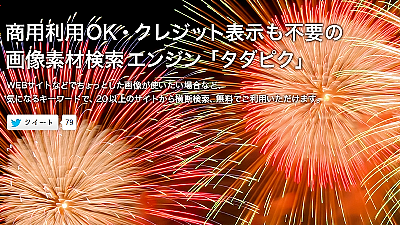 Images used on work may be difficult to find on the web, and even if you think that it is a good image, you may not be able to use for commercial purposes or require credit notation. In such a case it is convenient for a cross-site search site "Tadapiku"It is possible to search across image materials that are not required for commercial use and credit display from a total of 24 image search sites abroad and Japan.

Tadapiku (tadapic) - Commercial use OK · Image material search engine not requiring credit display
http://www.tadapic.com/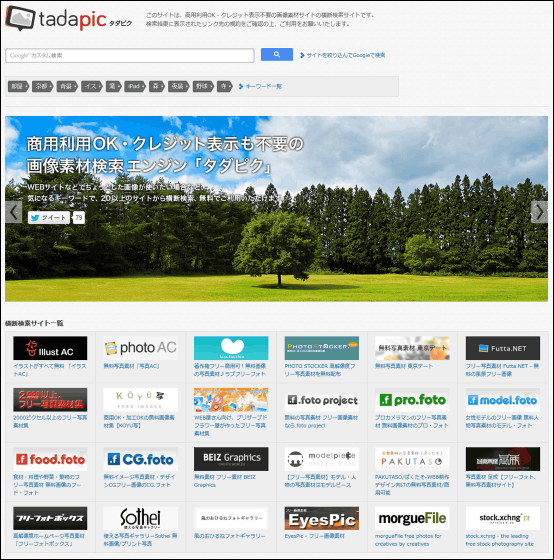 Fill in the keyword "kitty" in the search field of the top page and press the search button ......




An image of the kitten appears like this.



Click on the image you care about.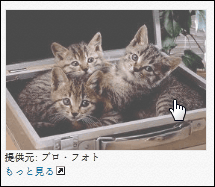 Then you jump to the site of the original image.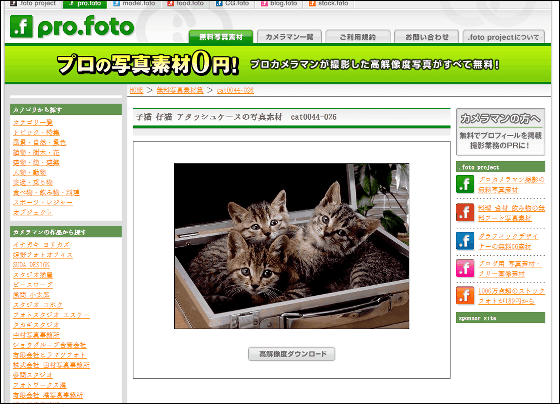 Since the search target is "image", not only photos but also illustrations will be searched together.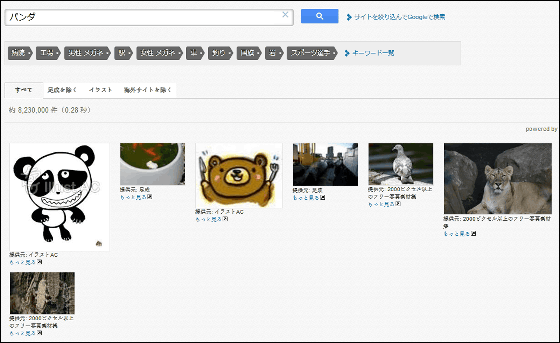 At the time of search, illustrations and photographic material sites by amateur photographersForbilityIt is also possible to exclude pictures of pictures or narrow down to Japanese sites.




Tadapiku is a system that searches across images from the following image search sites.

◆ 01:Illustrations are all free "Illustration AC"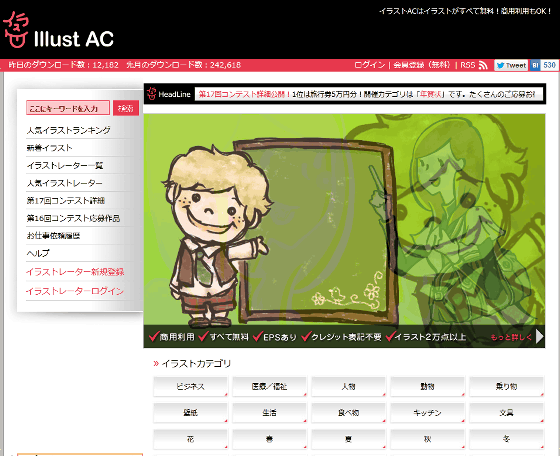 ◆ 02:Free photo material "Photo AC"



◆ 03:Copyright free commercial available! Free Stock Photo ♪ Love Free Photo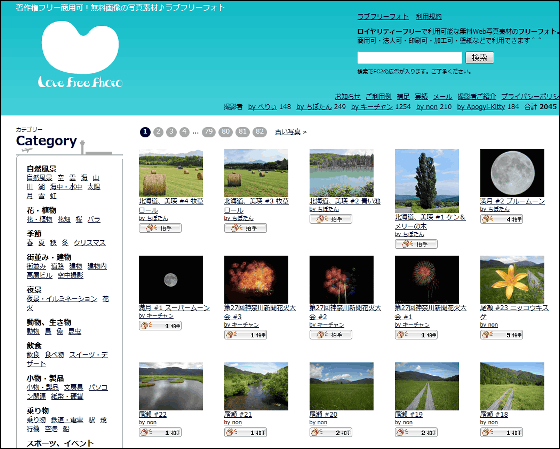 ◆ 04:PHOTO STOCKER - High resolution free photo material is distributed free of charge. Commercial available. Also on the homepage.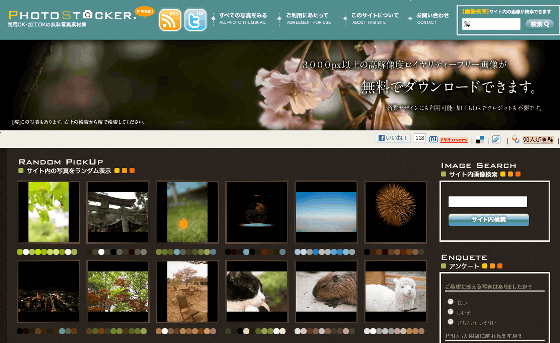 ◆ 05:Free Stock Photos Tokyo Dating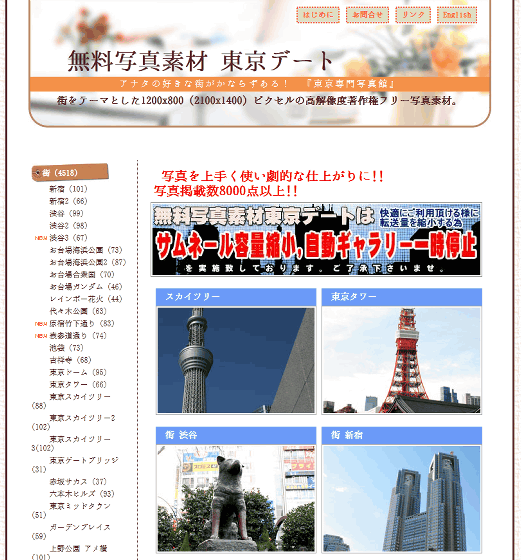 ◆ 06:Free Stock Photos Futta.NET - Free Landscape Free Pictures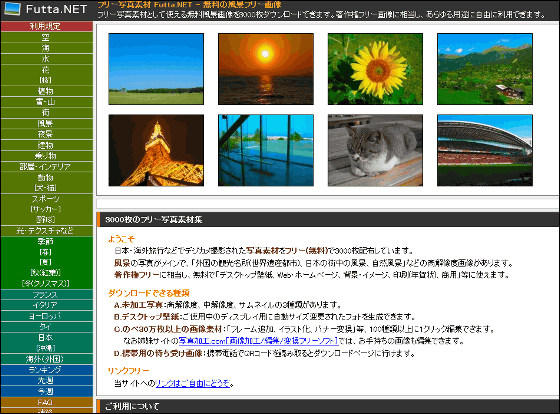 ◆ 07:2000 Free pixels with images or more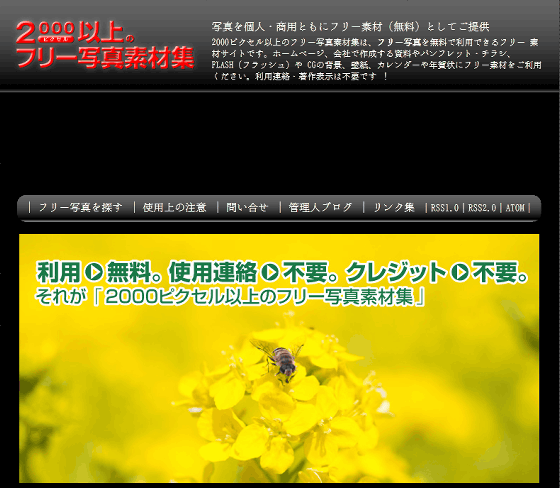 ◆ 08:Commercial OK · Processing OK free image material collection 【KOYU photograph】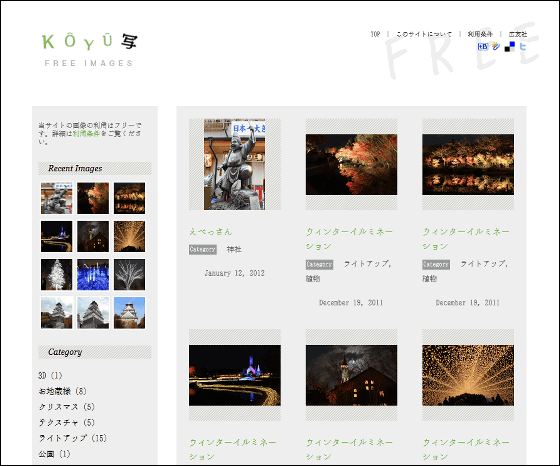 ◆ 09:Free Wallpaper Made by Preserved Flower Shop for WEB Store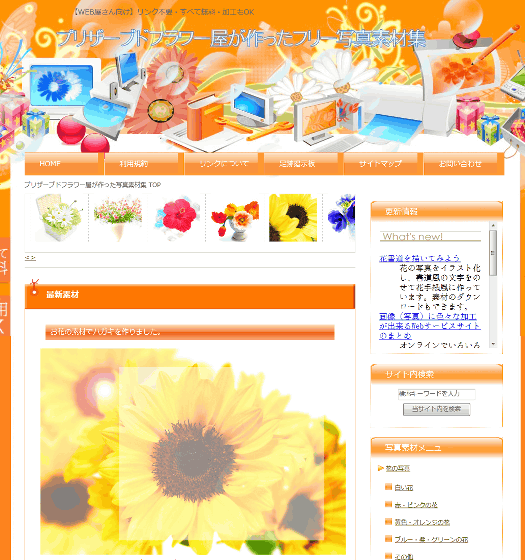 ◆ 10Free photo material if free image material. Foto project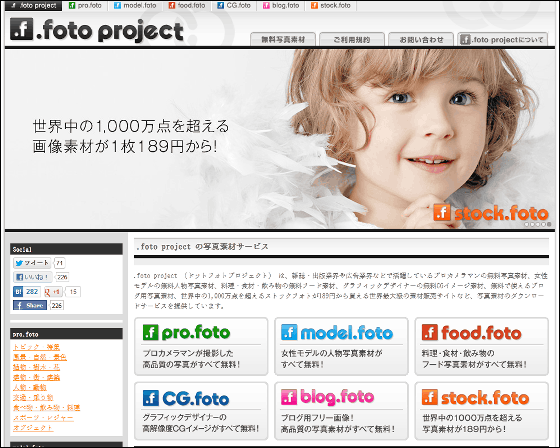 ◆ 11:Pro photographer 's free photo material Free image material pro / photo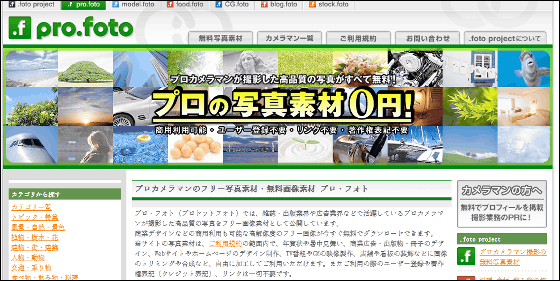 ◆ 12:Free image of female model Free photo person photo material photo ·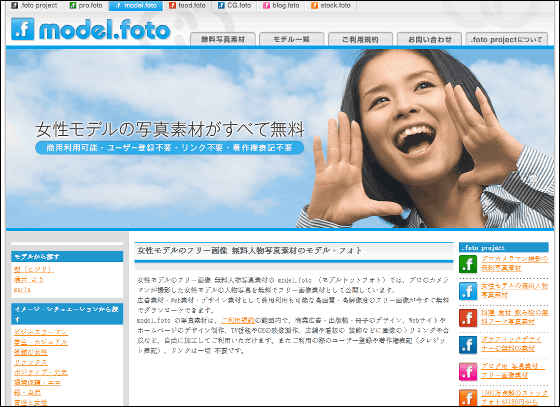 ◆ 13:Foodstuffs · Cooking and vegetables · Fruits Free Stock Photos Free food picture · photo



◆ 14:Free Image Material · Design CG Free Image CG. Photo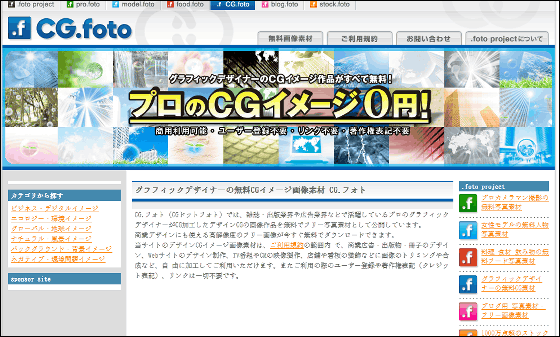 ◆ 15:Free material Free material BEIZ Graphics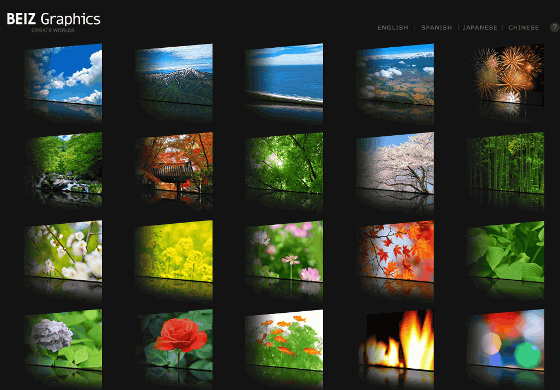 ◆ 16:[Free picture material] Model / person's picture material is a model piece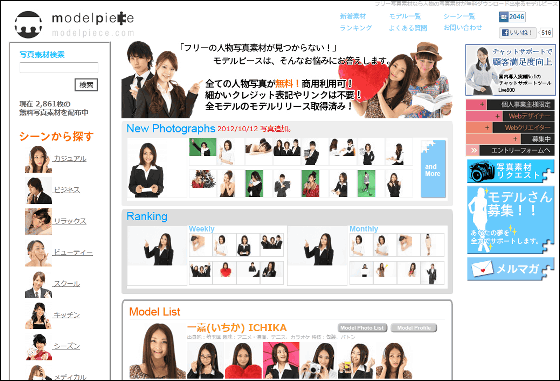 ◆ 17:PAKUTASO / Pakutaso - Free photo material for web production / Commercial use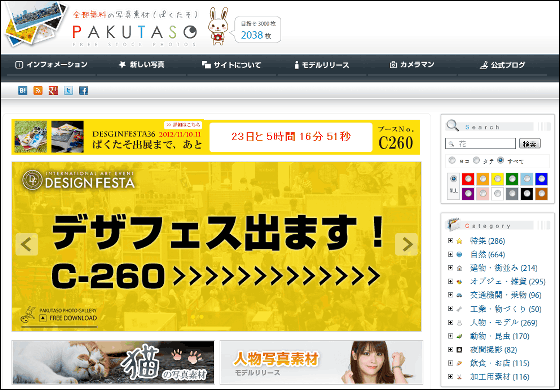 ◆ 18:Photo material Suzumi [Free photo, Free material material website]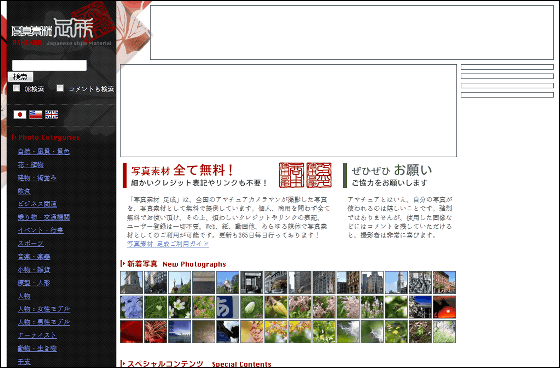 ◆ 19:High Resolution Homepage Photo material "Free Photo Box"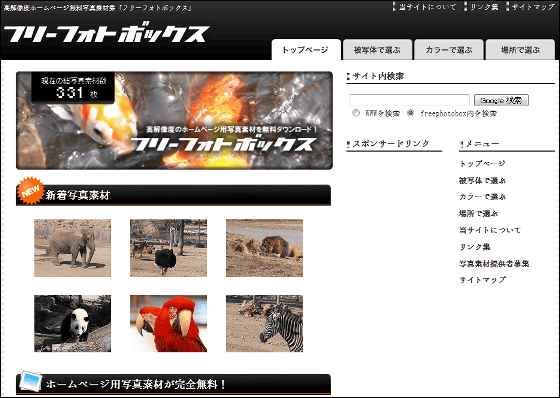 ◆ 20:Useful photo gallery Sothei Free picture / print photo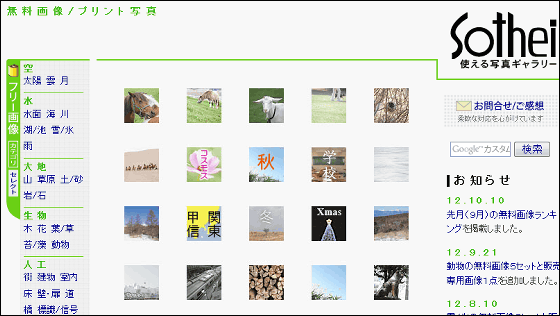 ◆ 21:Home - wind pulls photo gallery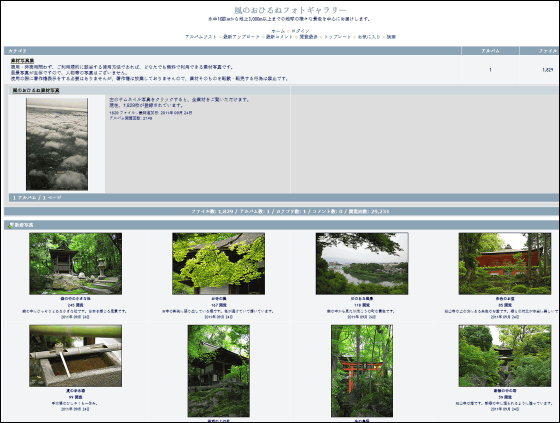 ◆ 22:EyesPic - Free image material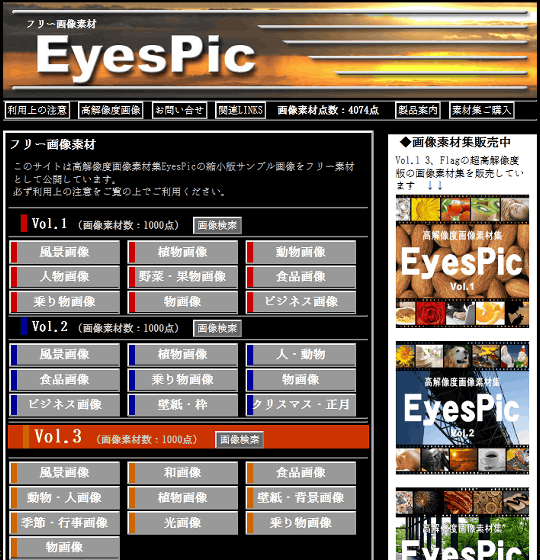 ◆ 23:Morguefile.com free stock photos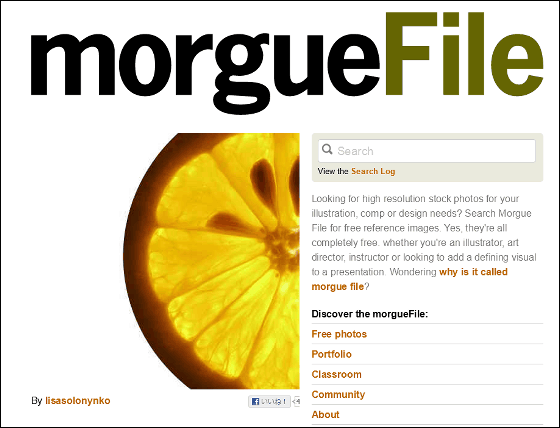 ◆ 24:Stock.xchng - the leading free stock photography site