Finally, the successor magazine "Jump Square" of the monthly juvenile jump is issued tomorrow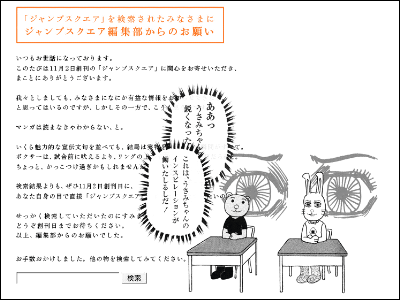 It is the successor magazine of "Monthly Shonen Jump" that was closed on July super supernatant released in June "Jump square (SQ)It is said that it will be launched on November 2nd again tomorrow.

"Gag Manga Days"In addition to some serial series that took over from the monthly Shonen Jump such as" It will become a complex manga magazine incorporating information of animation, game, light novel.

the detail is right below.
Publication of topics of comic 2 journals: publication topic: book Yomogurudo: YOMIURI ONLINE (Yomiuri Shimbun)

According to this article, the monthly "Jump SQ" that is to be launched tomorrow will be posting each slang work in addition to the series including four which took over from the "monthly jump". In the first issue is famous for "bastard BLUES"Masanori MoritaMr. or "DEATH NOTE"Ken ObataMr.'s work will be posted.

Also, we are aiming for "Comic Manga Magazine" incorporating information on animation, games, light novels, and we are also looking for animation from the planning stage, target age group of 15 to 25 years old. According to the increase of female readers of "Weekly Shonen Jump", it seems that they intend to cover 60% of males and 40% of females. Issuing 500,000 copies of the first issue.

By the way, although information is not posted on the top page of jump square's official website much, by waiting for a while keeping the top page displayed, you can enjoy FLASH animation by characters of "Gag Manga Days" . By clicking on the "Search" button, you can see the posted manga list and the state that each writer is writing automatically in the movie automatically.

To everyone who searched for "jump square"